ACE revs up presence in the world of motorsports
ACE makes vroom for new partners
June 3, 2015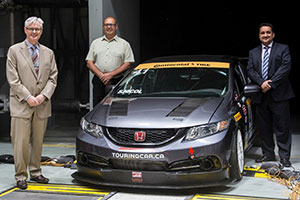 OSHAWA, ONTARIO – Ontario's growing motorsports community is looking to accelerate its growth through an exciting new partnership with ACE at the University of Ontario Institute of Technology (UOIT).
ACE is forging ties with Canadian Touring Car Championship (CTCC) and starting a relationship with the future Canadian Motor Speedway (CMS) in Fort Erie, Ontario to support aerodynamic and thermodynamic wind tunnel testing, engine tuning and suspension tuning of race vehicles.
"These two partnerships will assist ACE in claiming a spot in the motorsport industry and ensure ACE is an integral part of motorsport in Ontario, Canada and the United States," said Don Toporowski, General Manager, ACE. "Through development, research and innovation, this opportunity will strengthen the motorsport community in Ontario."
The CTCC is one of Canada's most exciting sports car road racing series which showcases race cars based on their original street version.
"This is a wonderful opportunity for the Championship to work with ACE and help to expand its brand and reach into the motorsports industry," John Bondar, President and Founder, CTCC. "They have a fabulous facility with great staff and I cannot wait to see how the CTCC teams will react the first time they visit."
CMS is a proposed $150 million racetrack development strategically located in central Fort Erie, Ontario. It will be Canada's first and only professional class three-quarter mile (1.2 kilometre) banked oval track with an integrated road course that is a Jeff Gordon design signature speedway.
"The merging of new technology for the automotive and motorsport industries comes from what we learn in testing – both on and off the track," said Azhar Mohammad, Executive Director, CMS. "This partnership with the University of Ontario Institute of Technology specifically provides wind tunnel testing in different environments, climates and conditions to push vehicle limits, which translates directly to the design and manufacturing of our passenger cars. UOIT is an industry leader with their world-class ACE facility and we are proud to be their future track of record."
ACE will be the official competition wind tunnel of CMS. The agreement will combine ACE Speed Lab services with race/track days at CMS and encourage motorsport research at ACE and CMS. It will also allow UOIT access to CMS research facilities and provide future educational opportunities for UOIT Engineering and Applied Science students.
"It's a vote of confidence when a major organization wants an agreement with you, a big organization saying they want to be involved," said John Bickford, Vice-President and General Manager of Jeff Gordon Inc. "When you think how racing has progressed over the last 50 years, it's an evolution of science. There's more engineering in the sport than ever before with simulators and wind tunnels."
Bickford is stepfather of Canadian Motor Speedway oval track designer and four-time NASCAR Sprint Cup champion Jeff Gordon.
"Racing is the precursor of the automobile we drive on the street," adds Bickford. "Manufacturers are testing at facilities looking for better fuel mileage through aero efficiency and race teams are always looking at ways to improve vehicle performance. So having all these things come together in a small community, the CMS-UOIT partnership is like a test bench at your door step. I'm not sure this set up exists anywhere else in the world."
About CTCC
The Canadian Touring Car Championship (CTCC) presented by Continental Tire showcases race cars based on their original stock street version in three different classes. The entry-level Touring Class features cars with minimal engine modifications, while Super Touring Class machines have heavily modified engines and advanced aerodynamics. Grand Touring Class is for even higher power sports cars.
All three classes compete at the same time on the track and challenge for supremacy in their class. CTCC was created in 2006 based on the growth of amateur touring car racing in Canada and the pent-up demand for a professional product.

Ontario race events generally take place in the Greater Toronto Area, Greater Ottawa Area, while Québec events take place at Mont Tremblant, Montréal and Trois-Rivières.
About CMS
The proposed massive stadium in Fort Erie to accompany the CMS track will have seating for 65,000 and host a variety of motorsports including automobiles, motorcycles, karting, drifting, and various motorized and non-motorized public events. CMS will include ancillary construction for infrastructure, recreational, retail, commercial, light industrial, educational uses and an automotive/motorsports R&D Innovation Park, which will expand the build-out to $400 million.
About ACE
ACE is a $100 million multi-purpose testing and product development facility that is commercially available to customers to utilize. Among ACE's many amazing features is one of the largest and most sophisticated climatic wind tunnels on the planet, a massive chamber that can create any weather conditions imaginable – from sweltering jungle downpours to the paralyzing cold of an arctic storm.
Media contacts:
Bryan Oliver
University of Ontario Institute of Technology
905.721.8668 ext. 6709
bryan.oliver@uoit.ca
@BOliver_UOIT
Eric Tomas
CMS Media Consultant
905.892.0411
erik@cdnmotorspeedway.com
Gallery