Inspiring future science students: UOIT PhD candidate Jesse Allan
June 3, 2015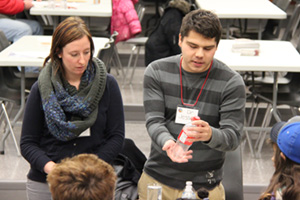 University of Ontario Institute of Technology (UOIT) graduate student Jesse Allan (PhD, Materials Science '16) has always had a deep passion for science.
"From the time I was about 10 years old, I remember telling my family 'I want to be a doctor'," says Jesse. "Little did I know that I would actually see that dream come true, and also happen so close to home."
An Indigenous student who grew up in Oshawa, Jesse's family is from the Chippewas of Rama First Nation on the eastern shore of Lake Couchiching.
"Rama is a very proud community. Rama has been a huge supporter of my education over the years, from my Bachelor of Science degree at UOIT right through to my current PhD studies. I am grateful for my community's help throughout my university journey."
Jesse is working on his PhD with Dr. Brad Easton, Associate Professor, UOIT Faculty of Science. His research revolves around examining membrane materials for fuel cell-based breath alcohol sensors.   
Jesse's passion for science is matched by his passion for finding a way to give something back. Over the past two years he's been sharing his science knowledge with elementary and high school students in Oshawa through a unique partnership between the Durham District School Board's (DDSB) Aboriginal Education Department and the UOIT-Baagwating Indigenous Student Centre.
At the DDSB's Aboriginal Family Network Nights, Jesse teams up with the university's Office of Indigenous Student Services to put on a series of cool scientific experiments for local students. Topics include everything from how batteries work to a demonstration of ever-popular flaming gummy bears. The kids and the parents affectionately call him 'Dr. Jesse'.
"It is so much fun to answer their questions and see them learn. Maybe something as simple as watching a cool experiment at this age will inspire some of them to pursue studies in science and technology down the road. You never know when that spark for learning will be ignited."
"Jesse Allan is a popular guest at our Aboriginal Family Network Nights because he helps make complex science fun and easy to understand," says Carolyn Porter, Aboriginal Education Officer, DDSB. "Jesse generously shares his time and his experiences and is a powerful role model for our young students. He is inspiring a new generation of self-identifying students to not just be proud of their heritage, but also to aspire to pursue their own dreams."