Time-honoured tradition for UOIT Nursing graduates
Class of 2015 attends annual graduation tea and pinning ceremony
June 2, 2015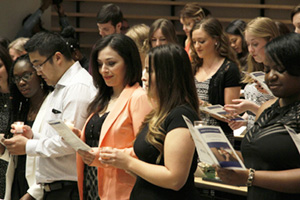 It's the symbolic last step of a young Nursing student's journey into the profession of nursing. New graduates of the University of Ontario Institute of Technology's Nursing program celebrate the completion of their studies through a special ceremony with the lighting of a candle.
The passing of the flame to each new nurse honours the dedication of British social reformer Florence Nightingale, considered the founder of modern nursing for her organizing of nurses to tend to wounded soldiers during the Crimean War. Nightingale was an icon in Victorian culture as 'The Lady with the Lamp' who made rounds to injured soldiers at night.
During the candle-lighting, known as the Graduation Tea and Pinning Ceremony, each graduate receives the 2015 Bachelor of Science in Nursing (BScN) pin and also recites the Nightingale Pledge, an adaptation of the Hippocratic Oath.
"Congratulations to all 2015 Nursing graduates for their hard work and dedication, which brought them to the place they are today," said Dr. Victoria Smye, Associate Professor, Faculty of Health Sciences (FHS) and Director of the BScN programs. "We are proud of each one of them and we know that they will leave this university with the skills and hands-on experience that will equip them to make a positive impact on the lives of the patients they care for throughout their future careers."
"This event is a chance for Nursing graduates to come together, celebrate and acknowledge all of the support they have received from their friends and family members throughout their academic careers," added Dr. Otto Sanchez, Acting Dean, FHS."It is also an opportunity to recognize members of our faculty for the quality education they provide for each of our Nursing students, as well as our community partners, whose commitment is key to the success of the Collaborative Nursing program."
Family and friends, FHS and Durham College (DC) faculty and staff and community partners joined the Collaborative UOIT-DC BScN (four-year honours) and Registered Practical Nurse (RPN)-to-BScN Bridge graduates for an evening that included speeches from Valedictorian Kelvin Leung and Salutatorian Rosalie Fallis. Student and preceptor distinction awards were also presented.
Each graduate received the 2015 BScN pin and participated in the candle-lighting ceremony, which represents the passing of the flame from Florence Nightingale to each nurse, and the nurses' commitment to the profession. The graduates also recited the Nightingale Pledge, an adaptation of the Hippocratic Oath.
Award highlights
Student award winners

Advocacy and Social Justice: Kayla Kahle
Caring Award: Laura Harvie
Leadership Award: Karen Foell
Personal Development Award: Ashley Brouwer
Perseverance Award: Dillon Godfrey

Preceptor of Distinction award recipients

Heather Benko - Lakeridge Health Oshawa (Women and Children's Program)
Michelle Garcia; Rouge Valley Health System (pediatric unit)
Julie Marquardt - Durham Region Health Department
Angie Miller - Lakeridge Health Oshawa (Cardiology)
Lorraine Sunstrum-Mann - Grandview Children's Centre
Jindara Yang - Markham Stouffville Hospital (Childbirth Centre)

Agency of Distinction Award

Fairview Lodge, Hillsdale Estates, Hillsdale Terraces and Lakeview Manor (Durham Region's long-term care and services for seniors)
Gallery