Education Library services during Pan Am Games closure
July 10, 2015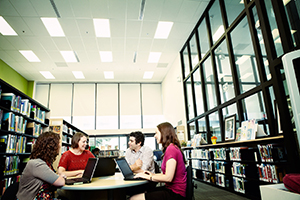 The University of Ontario Institute of Technology's (UOIT) Education Library, located in the Education Building at 11 Simcoe Street North in Oshawa, Ontario, will close from Friday, July 10 through Friday, July 24. The closure is part of the operational changes to the university's downtown services as a result of the Pan Am Games competitions being held at the General Motors Centre during this period.
Information about library material during the closure:
How can I access material in the Education Library?

Use the Place hold link on the item's record in the library catalogue or contact the Campus Library for assistance.
Where can I pick up a book I placed on hold?

Select either the North Oshawa Library or the Social Science Library, both of which will be open during the Pan Am Games.
Can I return library materials to the Education Library?

Although the Education Building will be closed, security personnel will allow individuals to place materials in the drop box outside the library's doors. Materials can also be returned to the other two library locations.
Can I contact Education Library staff for research help and other types of assistance?

Education Library staff will be working from other locations, and can most easily be reached by email:
For immediate assistance, please contact:
North Oshawa Library
Circulation: 905.721.3082 or 905.721.2000 ext. 3082
Reference: 905.721.2000 ext. 2390
Social Science Library