It's back-to-school time at UOIT
University offering wide range of transition supports for new students
July 16, 2015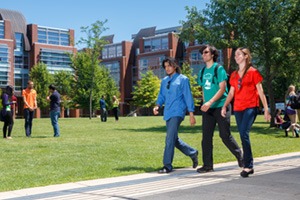 First classes are still several weeks away, but incoming first-year students at the University of Ontario Institute of Technology (UOIT) are being encouraged to get a head-start on preparing for university life.
UOIT's Office of Student Life offers a variety of programs to help make the transition to post-secondary education a smooth one.
"Back-to-school starts now and we want to ensure our students take advantage of the great services we have in place to help everyone get a great start on the exciting years in front of them," said Lindsey Ostrosser, Program Manager, Orientation and Transition, UOIT Student Experience Centre. "Regardless of how good a student you are or where you've been educated, university is different from high school. Our programs lay the groundwork for success throughout your years at UOIT."
UOIT's university-transition services during the summer are aimed at all new student entrants.
"First-year students do best when they have a chance to prepare for the transition to university," said Ostrosser. "UOIT's iBegin program and our pre-university boot camps are ideal preparation in advance of September startup."
The iBegin program in late July is the first part of orientation to UOIT and paves the way for academic and personal success. New students meet fellow classmates, faculty and staff, and learn strategies for making the most of university lectures. iBegin is complemented by a Parent and Family Orientation, which provides information on how they can best support students as they begin and progress through their university career.
Also available to new students is a mix of pre-university good-start programs: mathematics, science and writing boot camps along with pre-calculus review workshops.
Students affected by the recent high school strike in some parts of the province may find the programs to be especially useful. As many as 400 of the university's incoming class of 2,600 lost several weeks of class time before the end of the 2014-2015 high school year.
"UOIT has offered these programs for many years and there is no extra cost – they are part of every first-year student's investment in their university education," said Ostrosser. "You don't have to have been in a shortened school year to benefit from our programs and services, but if you were – as many students were in Durham, Peel and Sudbury – then we're here to help."
Many students have already registered, but there is room for lots more.
For more information go to uoit.ca and look for the iBegin banner on the home page.
---
Media contact
Bryan Oliver
Communications and Marketing
Ontario Tech University
905.721.8668 ext.6709
289.928.3653
bryan.oliver@uoit.ca