UOIT Automotive Engineering student on fast track to success
Brampton, Ontario's Chase Pelletier turning heads on auto racing circuits
July 30, 2015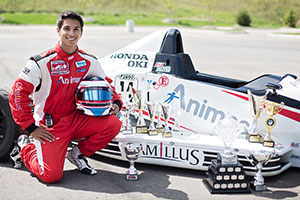 Big wheels are turning for University of Ontario Institute of Technology (UOIT) student Chase Pelletier. The turning wheels are not just the ones in his mind as he gains knowledge in his Automotive Engineering program at UOIT. They are also the ones he's been racing on for nearly half of his life.
"I started racing (go-karts) at the age of 10, so I've always had a passion for being behind the wheel," says Pelletier, who just finished his first year of studies in UOIT's Faculty of Engineering and Applied Science. "I moved up through the karting ranks and moved to open-wheel racing when I was 16. It just felt like a natural progression."
Pelletier's long track record of success continued in the open-wheel category. In 2013, his rookie year in cars, he finished fifth in the Formula Tour 1600 Championship after ending the season with a string of podium finishes. He also competed in the Pirelli World Challenge Touring Car Series, where he finished in the top 10 of every race he competed.
In 2014, Pelletier moved to the Canadian Formula 1600 SuperSeries championship and also continued to race in the Pirelli World Challenge by competing in an event at the Mid-Ohio Sports Car Course near Lexington, Ohio. At that race he qualified on the pole position and won his Touring Car B-spec (TCB) race, setting a new track record. In Formula 1600, he capped the season by winning the final two races to capture the Canadian Formula 1600 (F1600) Championship. He was also chosen to represent Canada at the Formula Ford Festival at Brands Hatch, not far from London, England. He finished 14th overall out 56 world-class young open-wheel drivers.
But in addition to moving with all of this fast company on the track, his education was a high priority too. After his final year of high school at St. Edmund Campion Secondary School in Brampton, Ontario, he accepted an offer to study at UOIT.
"I was drawn by UOIT's Automotive Engineering program and the possibilities it offers me to expand my race-specific knowledge," explains Pelletier. "There is a big need for drivers to be able to give our engineers feedback on the adjustment of car mechanics. UOIT was the perfect fit for my endeavours in motorsports. The campus atmosphere is great, and living in residence allowed me to stay focused on balancing everything."
Balance is something Pelletier needs to keep in mind each and every day. He was diagnosed with Type 1 diabetes at about the same time as he began racing. 
"Many people don't appreciate how physically demanding auto racing can be. Being sharp behind the wheel takes enormous concentration. But I also need to ensure that I eat properly and manage my nutrition to keep my blood sugar stable. There are parallels, I suppose, between how I need to fine-tune my body and how I look for ways to fine-tune the race cars for optimum performance."
Just turned 19, Pelletier cites his father Dave as being one of his inspirations, a mentor who has encouraged him every step of the way to follow his dreams. Another is American driver Charlie Kimball, the first licensed driver with diabetes in the history of IndyCar Racing, who has also been one of his coaches.
"Charlie has proven that living with diabetes is not a restriction on being able to compete at the highest levels of the sport. I plan to make it a driving force in my life by raising awareness and showing people diagnosed with diabetes that they can do anything they dream of if they are determined to manage their diabetes properly."
Pelletier certainly walks the talk. He joined the Drive4Diabetes.com – Garrett Racing driver development and diabetes awareness program in 2013. For the 2015 season, his third year with the team, Pelletier will be piloting the American Diabetes Association/American Honda/CarSquare - #11 Honda Civic Si in Pirelli World Challenge's Touring Car A-spec (TCA) class. He will also continue to race in open-wheel cars with Britain West Motorsport in the Canadian Formula 2000 championship.
"It's a big step to move to a full aerodynamic car. With the added horsepower and downforce on the car, the Formula 2000 cars are so much fun! So far the season has been going great, and I'm currently leading the championship."
What's next for Pelletier? Second-year Engineering studies at UOIT await in the fall, of course. Beyond 2015?
"I hope to be able to make a career of driving, and make it to IndyCar down the road."
At his current pace, Pelletier's big dreams may be just around the corner. UOIT will be cheering him on to even greater successes.
---
Media contact
Bryan Oliver
Communications and Marketing
Ontario Tech University
905.721.8668 ext. 6709
289.289.3653
bryan.oliver@uoit.ca