UOIT leads interactive technology roundtable at Toronto Global Forum
July 17, 2015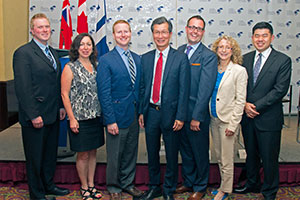 The University of Ontario Institute of Technology's strong commitment to research in interactive technology was front and centre at the International Economic Forum of the Americas on July 8 in Toronto, Ontario.
Following a plenary session on topics such as data management and high-tech innovation, UOIT Professor Dr. Bernadette Murphy of the Faculty of Health Sciences presented at the roundtable discussion Game On: Entrepreneurship in Digital Media and Interactive Technology. Dr. Murphy discussed her research on how technology use affects the body, and also how technology can be used to improve firefighter training and prevent injury.
"Digital media and interactive technology play a major role in our daily lives, but this revolution has also become a means to drive innovation in fields as varied as health, education, financial services, and urban planning and management," said Dr. Murphy.
"The most advanced applications in the industry can spur an endless range of possibilities. The challenge now is to find ways to help the sector develop and uncover cross-sector collaboration opportunities between digital media initiatives, researchers and other industries."
Participants in the discussion included digital media industry leaders, the Ontario Ministry of Citizenship, Immigration and International Trade, and the Media Development Authority of Singapore. UOIT PhD student Michael Williams-Bell (Applied Bioscience) was also invited to present his research and demonstrate how interactive technology is being used in combination with UOIT's state-of-the-art climate chambers in ACE to provide realistic simulation and training for firefighters.
Also at the Toronto Global Forum, UOIT Chancellor Perrin Beatty, President and Chief Executive Officer of the Canadian Chamber of Commerce participated in a discussion on energy, natural resources and infrastructure. During the July 9 session entitled The Arctic Route, Chancellor Beatty interviewed Ólafur Ragnar Grímsson, President of the Republic of Iceland.
Mission of the Toronto Global Forum
The Toronto Global Forum is a non-profit organization fostering dialogue on national and global issues. It is held under the auspices of the International Economic Forum of the Americas (IEFA). IEFA organizes annual summits, bringing together heads of states, central bank governors, ministers and global economic decision makers. The Forum also offers exclusive opportunities for business meetings aimed at promoting partnerships among major Canadian and international corporations. Over the years, the Toronto Global Forum has increasingly developed into a strategic platform for business development.