UOIT researcher and students run fitness programs for older adults
July 17, 2015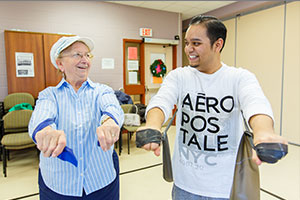 Several local seniors recently benefited from programs geared towards increasing their functional fitness, thanks to the efforts of a University of Ontario Institute of Technology faculty member and her undergraduate and graduate students.
Dr. Shilpa Dogra, Assistant Professor, Faculty of Health Sciences (Kinesiology) conducts research in the area of physical activity for chronic disease prevention and management, with an emphasis on active aging. She and several undergraduate and graduate Kinesiology students developed two programs that were offered at the Oshawa Senior Citizens Centre.
The first program was designed to progress older adults from falls-prevention programming to higher-intensity programming.
"Falls can seriously affect the lives of older adults. Improved fitness levels are associated with a reduction in falls; however, current programs are conservative in nature," said Dr. Dogra. "The goal was to build the confidence of these older adults so they could perform exercises at an adequate intensity to cause adaptations that would prevent and protect them from falls."
Participants rotated through several exercise stations, alternating between aerobic and resistance training.
"We noticed a big increase in the participants' confidence, as well as improvements in their walking speed," noted Dr. Dogra. "We had some people come into the program who were initially unable to stand without a walker, and by the end they were standing on their own."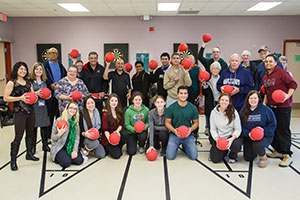 The second program was a nine-week exercise intervention for people who have had a stroke, completed out-patient rehabilitation through Lakeridge Health and need additional physical activity programming. The goal of this program was to help them stay active so they could continue to regain their functional independence. A secondary goal was to support their caregivers by providing them with resources and personal health information.
"There is so much more care needed after patients go through rehabilitation," she explained. "Other programs are available in the community, but none are designed specifically for people who have had a stroke. This is critical as a stroke can lead to a wide range of functional and cognitive impairments, so persons with stroke require a great deal of exercise modification and individual attention for appropriate gains in their health and fitness."
Students who helped design and run the programs as part of their research practicums noted that the skills and experience they gained will be invaluable in their future careers.
Select student quotes:
"The seniors I was fortunate enough to work with were all very motivated and happy to be in the class, and this in turn clinched my decision to pursue a career in gerontology and recreation. I want to keep people motivated and active as they age so they can continue to tell their stories and have the best possible quality of life."
-Lindsay Braund, Bachelor of Health Science in Kinesiology, class of 2015
"I got to see first-hand how even just a simple exercise program once a week can improve the quality of life for a stroke patient. This program has given me a unique chance to experience patient care and to develop client relationships, which is really beneficial when you are trying to figure out if a certain future career is something you would find rewarding. After working with the stroke patients and their caregivers it really helped me decide that I want to pursue a career in medicine after my degree in Kinesiology."
-Gabrielle Cook, Bachelor of Health Science in Kinesiology, class of 2016
"The practicum was a great opportunity to not only collaborate with researchers, but also apply critical research methods into a practical setting. I have gained a vast amount of practical experience that will be useful as I pursue my future career in research and stroke rehabilitation/prevention."
-David Jagroop, Master of Health Science in Kinesiology, class of 2017; Bachelor of Health Science in Kinesiology, class of 2015
"I got involved in this project mainly because it closely aligned with my research interests: aging and exercise. Helping out gave me an opportunity to work directly with older adults in a fitness setting and contribute to a couple very interesting research projects."
-Carley O'Neill, Master of Health Science in Kinesiology, class of 2016
"I feel like sometimes undergraduate students spend a lot of time studying and gaining knowledge but they don't end up applying it until they begin a career. This was a great opportunity to gain practical kinesiology experience, and it furthered my desire to pursue a research career."
-Michael Penny, Bachelor of Health Science in Kinesiology, class of 2015
Gallery