Olympic gold medalist Natalie Spooner joins UOIT coaching staff in mentorship role
August 27, 2015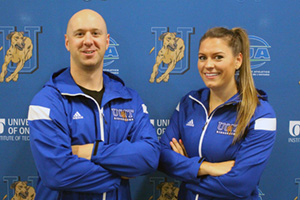 OSHAWA, ONTARIO – The University of Ontario Institute of Technology's (UOIT) women's hockey program hopes Natalie Spooner joining their coaching staff will help take the program to the next level.
Spooner, member of the gold medal-winning Canadian team at the Sochi Winter Olympics, will be a player mentor for the UOIT Ridgebacks. Her main focus on-ice will be skill development. Away from the ice she hopes to share and use her experiences as a member of the national program to teach the players how to prepare themselves mentally and physically to become the best players they can be.
"I'm pretty excited," said Spooner. "I graduated from university two or three years ago now, so I'm excited to get back into the university atmosphere. For the girls I think this is one of the most exciting times of their lives, just concentrating on hockey and school."
Although her hockey resume is more focused on playing the game than coaching, she hopes the Ridgebacks will learn from what she is doing in season, and vice-versa.
"It is a little weird now, kind of turning the tables and being on the other side (coaching), but I think as you get older there are younger girls in the game of hockey and you try to give back and teach those girls because they are the future of hockey," she said. "If I can do that just a little bit with some of these UOIT girls, I think it will be awesome."
Watch the interview with Natalie Spooner:
In addition to her role with the Ridgebacks, she will remain a member of the Toronto Furies in the Canadian Women's Hockey League. As a member of the Canadian national women's ice hockey team, she has won several international medals. At the International Ice Hockey Federation's world women's championship she has won one gold (2012) and three silver medals (2011, 2013 and 2015).
"I've worked with Natalie for a couple years now in her development and to have her on board, bringing her experiences and knowledge to UOIT, is a huge benefit to our program," said Ridgebacks Head Coach Justin Caruana. "With her experience as a university athlete, as well as a current player, we expect and hope that our girls will listen to every bit of knowledge she gives them."
On Sunday, September 27 the UOIT Ridgebacks will host the St. Thomas Tommies for an exhibition game at the Campus Ice Centre. They will open the Ontario University Athletics regular season Thursday, October 8 at home against the York Lions.
Season tickets are now available through UOIT's Athletics department. To purchase your tickets, contact Scott Dennis, Sports Information and Marketing Co-ordinator, at 905.721.8668 ext. 2784.