UOIT and Durham College athletes send soccer cleats to Uganda
August 18, 2015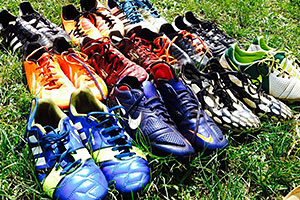 Several University of Ontario Institute of Technology (UOIT) and Durham College (DC) varsity athletes recently took a break from their regular training activities to collect soccer shoes for Ugandan youth.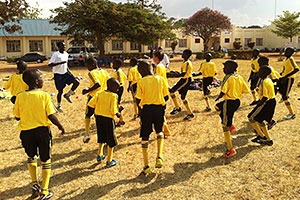 The request for cleats came from Adrian Bradbury, Founder, Football for Good (FFG), which brings community-centered academy football to regions that have been ravaged by war. The first academy FFG launched was the Gulu United Football Club (GUFC) in northern Uganda.
GUFC goes through many pairs of soccer cleats every season. "Our fields here are often more dirt than grass, and the youth academy boots take a beating," explained Bradbury. "We make great use of the local cobbler, but that only goes so far. So we continue to need a steady stream of gently used boots."
The UOIT and DC varsity teams responded to the request by collecting and sending 80 pairs of cleats to GUFC.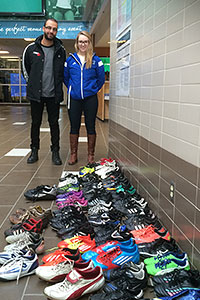 "A huge thank you goes out to the University of Ontario Institute of Technology and Durham College for their donation," Bradbury said. "Their support is making a huge impact here in northern Uganda."
Bradbury, who completed his high school and post-secondary education in Oshawa, Ontario, recently moved his family from Toronto, Ontario to Uganda to launch FFG and GUFC. He has worked for more than 10 years in academy football, international development, advocacy, project management and fundraising. He is the Founder and former Director of Athletes for Africa, a global charity that provided education and opportunities for youth in Africa through the power of sport. He also launched GuluWalk, which became one of the world's most recognized grassroots movements for peace in northern Uganda.   
GUFC is always looking for more cleats. Bradbury is in the Greater Toronto Area until Tuesday, September 15 and will be collecting donations until then.