UOIT Science researcher encourages students to embrace summer 'Hack Week'
August 10, 2015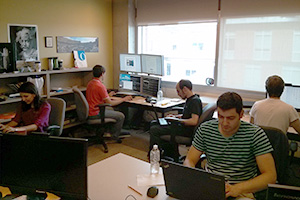 The evolving world of computer technology is a high-pressure environment. While there is plenty of room for creative thinking in such an intense atmosphere, a growing number of high-tech companies believe employees should take a short break from the daily routine.
"Companies are realizing the benefits of letting employees explore their ideas – in the workplace – without constraint," says Dr. Isaac Tamblyn, Assistant Professor (Physics), Faculty of Science at the University of Ontario Institute of Technology. "The theory is that creative juices can be recharged and restored by having employees temporarily drop everything they are working on, in favour of taking on a completely new project of their own choosing."
The concept is called Hack Week. The idea is to have employees spend one week of the year doing something completely different. Dr. Tamblyn decided to implement the concept with his research group, giving his students instructions to work on something they found interesting and 'produce something cool'.
"The students decided to build a scheduling app for UOIT undergraduates," explains Dr. Tamblyn. "They built a web scraper  – a database and scheduling algorithm that extracts or scrapes website information and optimizes the timetables of undergrads according to availability of courses and student timetable preferences. Currently students are expected to do this by hand. It can be a particularly daunting and time-consuming process for incoming first-year students."
For example, if a student wants no evening classes (perhaps because they have a part-time job or a long commute), the software will try to find courses or tutorials that meet this requirement. This is accomplished using a bit of applied graph theory and Monte Carlo (random number generation) sampling.
"The students came up with this idea completely by themselves. They may never have had a chance to work on such a project without taking a crack during Hack Week. I think this idea could be something other graduate research groups would benefit from."