Dragon to help UOIT Paint the Town Blue at Homecoming 2015
Renowned entrepreneur Bruce Croxon to share wisdom with UOIT alumni and current students
September 30, 2015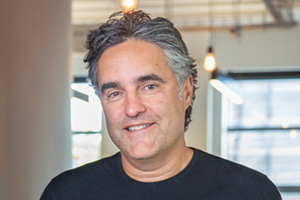 The pursuit of innovation and the spirit of entrepreneurship are the leading themes behind Homecoming 2015 celebrations at the University of Ontario Institute of Technology (UOIT) on Saturday, October 3. The community, students, faculty and staff are invited to join the university's more than 12,000 alumni for a day full of free and fun events on campus.
The centerpiece activity features a speaking engagement at 1:30 p.m. by Bruce Croxon, Lavalife co-founder and former judge on CBC Television's Dragons' Den. With more than 40 years of experience in entrepreneurship, Croxon has a wealth of knowledge regarding what it takes to make it in today's fast-moving business world. Come to the Campus Recreation and Wellness Centre (gyms 3 and 4) to hear what he has to say about the vision and values behind his entrepreneurial success.
"Homecoming is the biggest and best alumni event of the year," said Mohammad Soledad, Homecoming 2015 Co-Chair. "It is not only an opportunity for alumni to connect and celebrate with their peers, but also an exciting chance for the entire university to engage with the community." 
Prior to the Bruce Croxon event, graduates will discuss a wide range of hot topics with current students and faculty at the Thinking Forward roundtable luncheon. Participants will explore such issues as:
career development
education as social innovation
Canada's energy future
solving world problems with radiation
networking among health professionals
new science frontiers
creating social change
Other community events:
The UOIT Ridgebacks women's and men's soccer teams will host the Ryerson Rams (Vaso's Field, 1 and 3 p.m.)

The Ridgebacks women's hockey team will play an exhibition game against former Canadian national team star Natalie Spooner and the Toronto Furies (5 p.m., Campus Ice Centre).
UOIT alumni are encouraged to keep in touch by visiting the Alumni website.
---
Media contact
Bryan Oliver
Communications and Marketing
Ontario Tech University
905.721.8668 ext. 6709
289.928.3653
bryan.oliver@uoit.ca