UOIT congratulates its application-based scholarship winners
September 18, 2015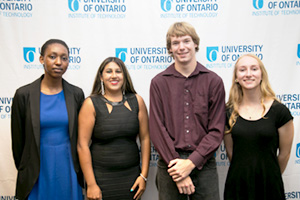 Each year, seven outstanding students at the University of Ontario Institute of Technology (UOIT) are awarded the university's most prestigious entrance scholarships. The UOIT entrance scholarship program recognizes first-year students for exceptional achievements in academics, leadership and community involvement throughout their high school career.
UOIT's major entrance scholarships:
Chancellor's Scholarship - one valued at $36,000 ($9,000 each year for four years).
President's Scholarship - two valued at $30,000 ($7,500 each year for four years).
Founder's Scholarship - two valued at $24,000 ($6,000 each year for four years).
FIRST Robotics Canada (FRC) Scholarship - one valued at $12,000 ($3,000 each year for four years).
Global Leadership Award (GLA) - one valued at $72,000 ($18,000 each year for four years).
Happy Inibhunu's dedication to ensuring the well-being of others and her outstanding academic performance earned her this year's Chancellor's Scholarship. The Biological Science – Life Sciences student from Whitby, Ontario is excited about the opportunities that lie ahead. "Winning this award clearly shows that loving what you do and working hard does pay off at the end," Inibhunu said. "In all the activities I enrolled in at school and in my community, I constantly challenged myself and always tried to lend a helping hand in academics, sports, clubs and volunteering."
Aylina Dhanji of Whitby, Ontario (Legal Studies) and Nanaimo B.C.'s Kelsey Moore (Forensic Science) each received the Founder's Scholarship. Both students made remarkable contributions to their school and achieved great academic success.
"This award has lifted a huge amount of stress off the shoulders of me and my parents," said Moore, noting that the award will allow her to continue to do her best throughout her university career.
St. Thomas, Ontario's Tyler Beadle (Electrical Engineering) is the recipient of the FIRST Robotics Canada (FRC) Scholarship, which is awarded to a student who demonstrates leadership and excellence, and who has also participated on a FRC team during high school. "This award means the world to me," said Beadle. "The FRC Scholarship will allow me to accomplish my goals by giving me financial leeway throughout university; I will have more time to focus on school and will spend less time balancing a part-time job and my Engineering workload."
Toronto, Ontario's Helen Frampton (Nursing) and Kate Giroux of Port Hope, Ontario (Nursing) received the President's Scholarship. "I selected UOIT because it felt like more than just a university," said Giroux, noting that the vibrant student life at UOIT ensures a well-rounded university experience. "When I toured the campus for the first time, I got a sense of home."
"Canada is a world leader when it comes to the quality of education and UOIT provides a unique learning experience," added Aditya Kant (Mechanical Engineering), from Patna, India, the recipient of the Global Leadership Award. "The university's amazing atmosphere is the factor that attracted me the most."
All scholarships were well-earned and the university wishes the recipients all the best in their studies at UOIT.
Award recipients:
| | | | | | |
| --- | --- | --- | --- | --- | --- |
| Award | Name | Faculty | Program | Hometown | High School |
| Chancellor's Scholarship | Happy Inibhunu | | | Whitby, Ontario | All Saints Catholic Secondary School |
| President's Scholarship | Helen Frampton | | | Toronto, Ontario | Malvern Collegiate Institute |
| President's Scholarship | Kate Giroux | | | Port Hope, Ontario | St. Mary Secondary |
| Founder's Scholarship | Aylina Dhanji | | | Whitby, Ontario | Sinclair Secondary School |
| Founder's Scholarship | Kelsey Moore | | | Nanaimo, British Columbia | Wellington Secondary |
| FIRST Robotics Scholarship | Tyler Beadle | | | St. Thomas, Ontario | Parkside Collegiate Institute |
| Global Leadership Award | Aditya Kant | | | Patna, India | Delhi Model Public School |