FBIT faculty member to speak at Canadian Sharing Economy Symposium
October 16, 2015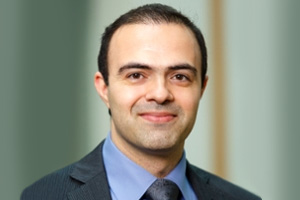 University of Ontario Institute of Technology (UOIT) researcher Dr. Hamid Akbari has been invited to speak at the Canadian Sharing Economy Symposium on Wednesday, December 2 at St. Andrew's Club and Conference Centre in Toronto, Ontario. The symposium will bring together experts from multiple sectors and perspectives to discuss the global and local implications of a rapidly evolving sharing economy model. This model enables individuals to obtain goods and services, such as transportation (Uber, Autoshare) or accommodations (Airbnb) through online platforms, in exchange for monetary and non-monetary benefits. It will also explore how the sharing economy model is changing markets, cities and lives.
Dr. Akbari is an Assistant Professor in the university's Faculty of Business and Information Technology, and CEO and Founder of Blancride, a carpooling app for commuters. He will participate in a panel discussion entitled Insurance Policies: Insuring the Sharing Economy. The panel will analyze the current state and scope of insurance policies within Canada, and discuss whether those policies need to change to engage the sharing economy. It will also address why today's sharing economy businesses do not fit the old economy's insurance policies.
For more details, please view the event flyer.
Related news: