ACE's indoor rainstorm dazzles new UOIT students during Orientation Week
November 6, 2015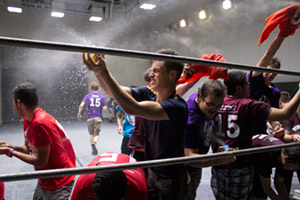 It may have been the craziest competition for students ever staged at the University of Ontario Institute of Technology (UOIT).
As part of UOIT Orientation Week activities in early September, ACE teamed up with the university's Office of Student Life to welcome all new students and invite them to take part in a friendly showdown inside the ACE Climatic Wind Tunnel.
The competition pitted incoming students from all seven UOIT faculties against each another in a battle of innovation and resourcefulness. The students' challenge was to help fill their team's water bucket using only a small number of tools: a small cup, a sponge and a miniature water gun.
To speed up the process, teams had to apply innovative ideas – some turning to their own clothing to help fill their water bucket. This unique Orientation event was an amazing opportunity to strengthen the sense of community between UOIT's first-year students, as well as a chance for the university to showcase the amazing research and testing facilities it has on campus.
"ACE is an important hub of activity for UOIT, where scientific research and teaching goes on every day," said Don Toporowski, ACE General Manager. "We are always delighted when students and members of the local community devise ways to use ACE to welcome new students and build our community. We hope that those in our water battle video, and all of our new students have a great educational experience at UOIT, as well as a fun and thoroughly memorable time."
Students also had the chance to participate in many other Orientation Week activities including faculty dodgeball competitions, the Wild Goose Chase and Ultimate Frisbee. ACE would like to thank the university and all first-year students for making the Climatic Wind Tunnel water battle an unforgettable event.
Gallery