Brilliant Entrepreneurship at UOIT: November 16 to 20
November 9, 2015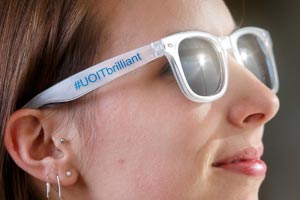 As part of the University of Ontario Institute of Technology's (UOIT) nurturing of an industry-relevant culture of innovation, UOIT students are encouraged to take part in Brilliant Entrepreneurship from November 16 to 20.
Brilliant Entrepreneurship coincides with Global Entrepreneurship Week as well as with a series of exciting activities that are part of Do It In Durham Entrepreneurship Week.
"Blending entrepreneurial opportunities into the student experience at the university is what Brilliant is all about," said David Pamenter, Executive-in-Residence, UOIT. "Students with great business ideas will get to network with potential collaborators, mentors and possible investors. There are a lot of tremendous business startup resources available for UOIT students. Step number one is connecting our Brilliant students to the expanding local ecosystem of support."
Brilliant Entrepreneurship activities at UOIT:
Schmoozing 101: How to Smart Network Like a Pro - Things You Don't Know, But Should!
Get out of your comfort zone and improve your networking skills.
Featuring Robert Weese of Spark Centre

When: Monday, November 16 from 10 to 11:30 a.m.
Where: The VIBE: Gordon Willey Building, B-Wing, Room 233
Brilliant Mentor Office Hours (drop-in)
The launch of mentor office hours – drop-in and speak with Brilliant mentor Joe Miller (Intellectual Property Officer, UOIT Office of Research Services) to gain feedback about your business idea. Miller has previously worked with the Greater Peterborough Innovation Cluster, assisting young entrepreneurs with business model development and funding source identification.
Whether you already have an established business or just have an idea, this is your opportunity to ask questions to an industry expert.

When: Wednesday, November 18 from 10 a.m. to noon
Where: RBC Faculty and Staff Lounge
Business and Information Technology Building, Room 1055
IBM Sport Hackathon (in co-operation with Ryerson University and Simon Fraser University)
Ready. Set. Hack. Teams will compete to develop new and innovative data-driven, sports-related software solutions. This year, SportsHack has partnered with the Canadian Football League (CFL) to develop real world technologies that the CFL can put into play. The winning team will have an opportunity to work with the CFL and mentors to bring their solution to market.

When: Wednesday, November 18 from 6 to 9 p.m.
Where: Business and Information Technology Building, Atrium (second floor)

Sponsored by the Canadian Football League
Do It In Durham Grand Finale Networking Event
Appetizers for attendees

When: Friday, November 20 from 4:30 to 6:30 p.m.
Where: Shagwells On The Ridge (at the Campus Ice Centre)

2200 Simcoe Street North
Oshawa, Ontario
Firefly Entrepreneurship Fund crowdfunding event
Brilliant Entrepreneurship invites an opportunity to help support our student entrepreneurs by giving to the Firefly Entrepreneurship Fund. By helping to develop skills and providing entrepreneurial tools such as workshops and bootcamps, incubation space, mentorship, networking and funding, they will succeed and become tomorrow's leaders.
We're doubling the power of your gift. The university has made funds available for the exclusive purpose of matching donations.  When we achieve our $5,000 goal, a $10,000 contribution will be made to the Firefly Entrepreneurship Fund in support of our Brilliant students.
"We are looking forward to connecting as many UOIT students as possible to Brilliant throughout the week," said Pamenter. "Bringing people together in these exciting and dynamic environments will help aspiring entrepreneurs at UOIT see how they can further develop their ideas and concepts. Helping shape how UOIT students approach the future ultimately shapes the future for all of us."
Important Brilliant Entrepreneurship links:
Brilliant Entrepreneurship social media links:
#UOITbrilliant
#GEWCanada
#BrilliantEntrepreneurs
#UOITBEW