SSHSS helps new students familiarize themselves with campus and services available
November 13, 2015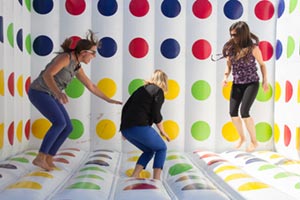 When new students arrive at university, they are not always aware of the many different resources available to them on campus. The Social Science and Humanities Student Society (SSHSS) at the University of Ontario Institute of Technology (UOIT) recently hosted an Orientation Fair to help students become familiar with their surroundings; meet faculty and staff members as well as this year's SSHSS team; and learn about all of the different student services available at the downtown Oshawa campus location.
This year the Orientation Fair focused on creating greater awareness around mental health resources and helping students relieve stress. Games and activities included:
4D-Twister
balloon artists
bouncy castle
cotton candy 
giveaways
henna art
magicians
rock climbing
selfie booth 
three-in-one sports cage
"We set it up as a carnival to make it something students could enjoy," said SSHSS President Reem Dabbous, a fourth-year Legal Studies student. "We wanted to encourage the expression of campus spirit while giving University of Ontario Institute of Technology students a way to remember who we (SSHSS) are, and what services are available to them. The multiple information tables made it easy for students to find the information they need without feeling intimidated or overwhelmed. A special thank-you goes out to our volunteers, sponsors and the Student Association for making the event a huge success."
"The Orientation Fair was a great forum for promoting services related to Indigenous students, as well as inclusivity and cultural appreciation," noted Jill Treen, Student Development Specialist – Indigenous Programming, Indigenous Student Services. "Because it's relatively new and located downtown, not all students know about the UOIT-Baagwating Indigenous Student Centre (UBISC), an inclusive space that offers programs and services to help both Indigenous and non-Indigenous students to learn and succeed in university. This was the perfect opportunity to raise awareness about UBISC and everything it provides."
"The fair was a fun way to get the word out about different ways students can get involved with ISS and other organizations or activities across campus," added third-year Legal Studies student Kelsey Shawera, who has served as Indigenous Programs Assistant with ISS since May.
Gallery