Star power: Reflecting telescope installed at university
November 27, 2015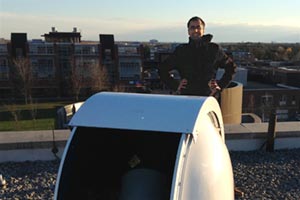 Looking across the open space of the tranquil Polonsky Commons you can see one of the University of Ontario Institute of Technology's new windows to the rest of the world and the universe.
On the top of the four-storey Campus Library at the university's north Oshawa location sits a small white dome—a new observatory that houses a reflector telescope for the Faculty of Science's (FS) Astrophysics specialization.
"We're very excited to finally have a home for this important component of our program," says Dr. Rupinder Brar, Senior Lecturer, FS. "The telescope is an essential new tool for our upper-year undergraduates who are working on research projects. Not only will they be able to study astronomical objects themselves, but they'll be able to learn the techniques of modern astronomical imaging and subsequent processing and data analysis. We will also be able to use it to teach and demonstrate astrophysics concepts to students in introductory courses."
With a diameter of about 28 centimetres (11 inches), the university's reflector telescope is much smaller than the huge modern research telescopes that can reach diameters of up to 12 metres. Despite its modest size, the new telescope will be able to image surface details on Mars and Jupiter, resolve double stars, and even acquire data from other galaxies. The university's new observatory is completely robotic, with the telescope, dome and camera either controlled directly from a computer in the Library or accessed remotely in the lecture halls.
"In spite of urban development, north Oshawa remains a decent location for astronomical observations," explains Dr. Brar. "Although there is some light pollution towards the south and west in the general direction of Toronto, observations in the northern and eastern sky will be relatively unimpeded by light pollution. We can control the opening of the dome to protect the telescope from the elements and also minimize interference from light—even from street lamps."