That's Brilliant - UOIT embraces Global Entrepreneurship Week
Charting the Entrepreneurial Journey at UOIT
November 17, 2015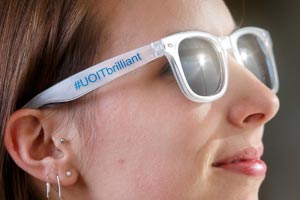 As part of the University of Ontario Institute of Technology's (UOIT) nurturing of an industry-relevant culture of innovation, UOIT is hosting a series of events aimed at supporting students who want to make an impact today, and in their futures, through the Brilliant Entrepreneurship program.
Brilliant Entrepreneurship coincides with Global Entrepreneurship Week (November 16 to 22) as well as with a number of exciting activities that are part of Do It In Durham Entrepreneurship Week.
Firefly crowdfunding
Brilliant Entrepreneurship invites an opportunity to help support our student entrepreneurs by giving to the Firefly Entrepreneurship Fund. Firefly provides funds to assist students with startup costs such creating a website, building a prototype, and more. As one of Canada's newest and fastest-growing research universities, UOIT is aiming to double the Firefly crowdfunding goal to $10,000 through matching donations made available by the university's Board of Governors.
UOIT students embarking upon The Entrepreneurial Journey
Since the launching of Brilliant, many UOIT undergraduate students, graduate students and alumni have taken advantage of Brilliant's many resources to help them launch their business ideas.
In the summer of 2015, Gregory Barnes and Kyle George – second-year UOIT Engineering students (Mechanical and Electrical, respectively) honed their entrepreneurial skills by creating an interchangeable smartwatch that allows for a 'smart' component to be swappable throughout various designs and styles of watches. The result is their new company: Henlen Watches.
"Currently smartwatches can't be worn for every occasion, such as when working out and doing other physical activities," says George. "In order to be worn all the time, they need to be adaptable for various scenarios. That's what we're developing at Henlen."
Their concept was so successful, Henlen Watches was selected as one of 11 companies to compete in a three-minute business pitch presentation in Spark Innovation Centre's Youth Accelerator program. Barnes and George won the top prize of $2,500.
"As Engineering students, we know a lot about the technology we are working with, but we really need help with issues like marketing, legal concerns and having a business plan," says George. "We are thrilled to have won the pitch competition, and are looking forward to working with Brilliant in the future to advance our business."  
Another example of Brilliant success is Coqui 3D, the creation of UOIT Computer Science PhD candidate Ben Sainsbury. The Coqui 3D product SurgerySim VR is an augmented and virtual reality training solution for surgeons. Sainsbury's SurgerySim VR, attracted a $30,000 investment and $2,500 for skills training from the Northumberland Community Futures Development Corporation's N1M program.
Both Henlen Watches and Coqui 3D were participants in the first cohort for the Brilliant Summer Incubator in 2015.
University invokes legacy of Oshawa entrepreneur to inspire students
Edward Plunkett (E.P.) Taylor (1901-1989) was one of Canada's most successful business tycoons who is perhaps most famous for his legendary thoroughbred horse breeding operation at Oshawa's Windfields Farm. In 1964, Taylor's horse Northern Dancer inspired a nation by capturing the Kentucky Derby and went on to be the greatest sire of the 20th century.
Taylor was a successful entrepreneur, even during his mechanical engineering studies at McGill University in Montreal, Quebec. He invented an electric toaster which helped him pay his way through school – marking the beginning of an incredible business legacy.
It is in the spirit of E.P. Taylor's passion for innovation that UOIT's Brilliant Entrepreneurship aims to support current and future students so they can turn their ideas and dreams into business startups and successful long-term enterprises.
UOIT's Brilliant Entrepreneurship by the numbers
295: enrolment in 2013-2014 in the university's Game Development and Entrepreneurship program.
194: students enrolled in Brilliant Entrepreneurship events, workshops and competitions  during the 2014-2015 academic year.
$3 million: amount generated by Tiko 3D's Kickstarter campaign. Inspired by Brilliant Entrepreneurship, the UOIT engineering students behind Tiko 3D developed an affordable and easy to use 3D printer. 
6: UOIT start-up businesses accepted to the 2015 Thrive Accelerator Program at the Spark Innovation Centre.
9: Firefly awards in 2015 which helped startups ranging from aquaponics to a green engine system for cars and trucks, to 3D virtual training for surgeons.
Important Brilliant Entrepreneurship links:
Brilliant Entrepreneurship social media links:
#UOITbrilliant
#GEWCanada
#BrilliantEntrepreneurs
#UOITBEW
More information: