UOIT supports launch of eCampus Ontario web portal
November 11, 2015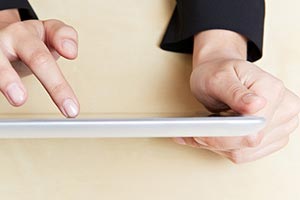 The University of Ontario Institute of Technology (UOIT) is pleased to partner with the Ontario Online Learning Consortium/Consortium ontarien pour l'apprentissage en ligne (OOLC/COAEL) on the launch of the new ecampusontario.ca web portal.
The portal provides Ontario post-secondary students with access to thousands of accredited online college and university courses, resulting in greater flexibility for course completion. UOIT currently offers 108 courses through the portal, as well as the following fully online programs:
"Making University of Ontario Institute of Technology courses available through the eCampus Ontario portal opens up our program offerings to a greater number of students," said Brad MacIsaac, Registrar. "We recognize that each student's needs are different; as a result, we have designed many of our programs to accommodate flexible schedules through distance learning, part-time or full-time study, and multiple program start dates. Offering our courses through eCampus Ontario is another way to bring additional anytime/anyplace learning options to students who are looking for this kind flexibility."
In addition to more than 13,000 online courses, the portal features:
A searchable catalogue of courses offered online.
Access to 277 new and redesigned courses with transferable credits between participating institutions.
Features that easily and immediately identify credit-transfer information.
Support and resources for faculty on how to design and deliver online courses.
Academic and technical support resources for all users.
The portal will continue to be updated and enhanced to improve functionality including more extensive course and program information, greater personalization and expanded student services.
For more information, please visit: