Student event shines spotlight on wrongful conviction
December 23, 2015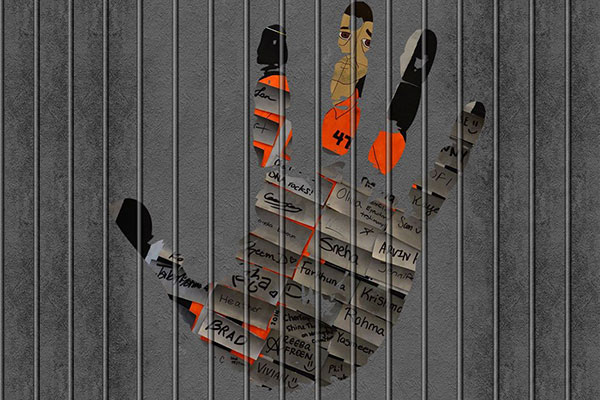 Whether or not they are legal experts, most Canadians know our justice system operates on the presumption that persons accused of a crime are innocent until proven guilty. Despite the many safeguards against miscarriage of justice within the legal system, wrongful arrests, convictions and imprisonments still happen in Canada. In fact, 95 cases are currently under review as of April 2015, according to the Association in Defence of the Wrongly Convicted (AIDWYC) - a Toronto, Ontario-based non-profit organization that advocates for the wrongly convicted and promotes better legal education and justice system reform to prevent similar injustices in the future.-
At the University of Ontario Institute of Technology (UOIT), students are gaining creative hands-on opportunities to learn more about why and how these injustices happen.  
The university's Social Science and Humanities Student Society (SSHSS) recently partnered with AIDWYC to host Wrongful Conviction Day, an event that draws attention to the experiences of people who have spent time behind bars for crimes they did not commit.
"Many of our downtown Oshawa students are enrolled in Legal Studies, Forensic Psychology or Criminology and Justice programs, and are interested in advocating for causes related to their studies," explained Reem Dabbous, President, SSHSS. "This was a great way to for the students to learn more about this important issue and give back to their community."
The event featured a number of activities designed to get students to interact and learn more about the wrongful conviction. Participants took photos of themselves 'behind bars' and posted the photos to social media with the hashtag #SSHSSWrongfulConviction for a chance to win prizes such as:
Blue Jays, Maple Leafs and Raptors hats and caps
Gift cards for Riley's Pub in Oshawa, Ontario
Tickets to a Toronto Marlies hockey game
Silhouettes of wrongfully convicted individuals, along with details about their cases, were also posted so students could learn more about each case and answer quizzes for additional chances to win.
The university's partnership with AIDWYC extends beyond the one-day event. In addition to co-hosting speaking engagements, approximately 30 students, such as fourth-year Criminology and Justice student Lisa Van Schyndel, have had opportunities to complete practicums at AIDWYC over the past 10 years.
"Working with AIDWYC's clients allowed me to witness first-hand just how much the organization has helped - and continues to help - change lives," said Van Schyndel, who worked under the direct supervision of Win Wahrer, AIDWYC's Director of Client Services. "This direct exposure makes me realize how important it is to spread awareness about wrongful conviction. One of the biggest takeaways from this practicum is understanding how much the wrongly convicted struggle even after having their conviction overturned or having been exonerated. Through getting to know clients and gaining insights from my supervisor, it became clear that Canada's system is not doing enough to provide adequate support for those identified as having been wrongly convicted."
Van Schyndel helped organize both AIDWYC's and the SSHSS' Wrongful Conviction Day events.
"I was thoroughly impressed with the number of students who were already aware of AIDWYC and some of its clients. The response from University of Ontario Institute of Technology students on Wrongful Conviction Day speaks to the amazing partnership between the university and AIDWYC, and to the overall effectiveness of AIDYWC as an influential organization in our community and across Canada."
"Thanks to AIDWYC founder Win Wahrer's unremitting vision and leadership, our students are given a  glimpse of the unheralded work associated with legal education and justice-system reform," added Dan Walters, Practicum Co-ordinator, Faculty of Social Science and Humanities. "Our students consistently refer to their AIDWYC experience as eye-opening and boundlessly rewarding. A heartfelt thank you to the entire AIDWYC team for providing our students with an opportunity to do really good things for really good people."