UOIT-created carpooling app takes major step forward
New development funding secured from the Ontario Centres of Excellence
January 15, 2016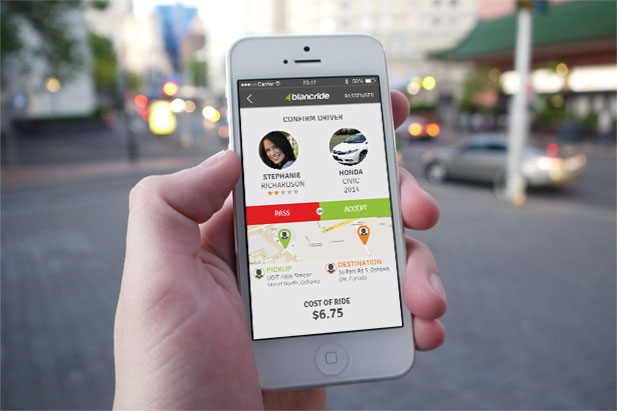 At nearly 33 minutes per one-way trip (Statistics Canada, 2013), the Greater Toronto Area holds the dubious distinction of having the longest average commute times in Canada. While Toronto once had distinct 'rush hours', highway traffic congestion is now a normal condition at almost any time of the day.
As commuters search for cost-effective and time-efficient ways to get around, a new carpooling application developed at the University of Ontario Institute of Technology is gaining popularity and finding support from government-funding sources. Drivers and passengers can organize a carpool with a just few taps on their iPhone or Android.
First launched as a pilot project in late 2014 by a group led by Dr. Hamid Akbari, Assistant Professor (Strategic Management) in UOIT's Faculty of Business and Information Technology, the carpooling app BlancRide has been awarded $125,000 by the Ontario Centres of Excellence (OCE) Market Readiness Commercialization (MRC) fund. The OCE program directly funds early-stage commercialization by start-up companies that have grown out of research conducted in an Ontario-based academic institution.
"This important new support from OCE funding will support BlancRide's growth to other university campuses in Ontario and help BlancRide grow in Greater Toronto Area," says Dr. Akbari. "In addition to helping commuters save money and time on their daily trips, BlancRide works toward solving broader social and environmental issues, as passenger cars are the highest contributors to greenhouse gas emission in Canada – more than oil production and coal-generated electricity."
How BlancRide works:
BlancRide is designed for everyone in the car to split the cost of the journey, rather than the driver making a profit.
Passengers use the app to enter a pick-up and drop-off location and indicate how flexible their schedule is.
The app geographically matches registered drivers and passengers, who agree to ride together by accepting the match and then give a rating once the ride has completed.
The average amount is based on the distance of the trip; however, rates are substantially lower then what commuters would pay for a taxi cab or Uber service because it is ride sharing, not ride hailing.
BlancRide was part of the formal FBIT business incubator program. Dr. Akbari and a team of 13 UOIT students and alumni gained support for their app from the university's entrepreneurial community and UOIT's Office of Campus Infrastructure and Sustainability.
"We started out by offering BlancRide to all valid email accounts at UOIT and Durham College," explains Dr. Akbari. "Registrations exploded within weeks. Students on our campus are early adopters of new technologies and are very passionate about sustainable modes of transportation. We believe others around the GTA feel the same way and we are delighted to have the support of OCE as we move forward."
OCE's MRC fund supports the growth of selected, high-potential, economically-viable start-ups into scalable, successful businesses and help them attract the private investment and other funding they need to grow.
OCE MRC program criteria:
The start-up company should result from research conducted in an Ontario-based academic institution or should be based at a Campus-Linked Accelerator (CLA).
The startup should be post validation stage, defined when the scientific, technical and commercial merit and feasibility of their product or service are determined.
Total market for the opportunity must be in excess of $50 million.
Related video:
---
Media contact
Bryan Oliver
Communications and Marketing
Ontario Tech University
905.721.8668 ext. 6709
289.928.3653 (cell)
bryan.oliver@uoit.ca