UOIT Futures Forum: Time to get smart on community development
University gathers experts to explore the challenges of urbanization
May 10, 2016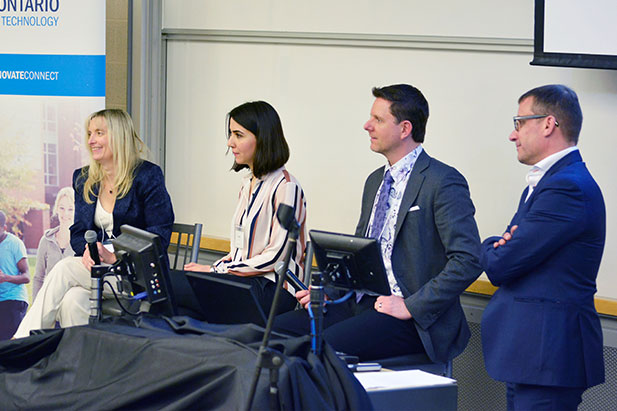 Should all new homes in Ontario be designed as net-zero energy structures? Could Highway 2 across Durham Region become Canada's 'Electric Avenue' – as the prototype route for electric vehicle use in an urban area? These were just some of the challenges and debates arising from the University of Ontario Institute of Technology's (UOIT) Forum on the Future of Smart Communities.
A stellar panel of experts from academia, government and leading corporations gathered May 5 to discuss strategies for developing smarter communities that are socially inclusive, innovative, digitally enabled, and economically and culturally robust.
The mass movement of people to urban centres is forcing municipalities to think about 'smart' development: building communities that are instrumented, integrated and intelligent. Underpinning much of smart development is the exponential rise of information communication technologies.
A full report on the findings and conclusions of the 2016 Futures Forum will be completed in the early summer.
As part of its ongoing contribution to the regional innovation ecosystem, the annual Futures Forum represents the university's commitment to articulating a distinctive UOIT perspective on key current public policy issues and sharing its breadth of research expertise and leadership.
Futures Forum schedule:
2015 – Advanced Manufacturing (summary report link)
2016 – Smart Communities (full report coming Summer 2016)
2017 (March) – Health and Wellness
Quick facts:
The world's urban population is nearing four billion people. This number is expect to double by 2050.
Global energy demand is expected to increase by a third by 2035.
Global water demand is expected to increase by 55 per cent by 2050.
96 per cent of all urbranization by 2030 will occur in the developing world.
Quote:
"This event proved to be an exceptional day of sharing vibrant ideas surrounding innovation, mobility and energy, all driven by a common theme: talk needs to be converted into action as soon as possible. As urbanization accelerates, municipalities are feeling unprecedented pressure on environmental issues and their capacity to deliver services to expanding population bases. That's why future growth and development needs to be 'smart'."
-Michael Rostek, Program Director, UOIT Futures Forum
Organizations represented at the 2016 Futures Forum:
University of Ontario Institute of Technology

Faculty of Business and Information Technology
Faculty of Energy Systems and Nuclear Science
Faculty of Engineering and Applied Science
Faculty of Social Science and Humanities
Office of the Vice-President, Research, Innovation and International

Durham College
Universities Canada
Council of Ontario Universities
Natural Sciences and Engineering Research Council of Canada
Ministry of Research and Innovation
Ontario Centres of Excellence

Canadian Chamber of Commerce

General Motors of Canada

IBM
Ontario Power Generation
Veridian Connections
Canadian Nuclear Laboratories
Canadian Urban Transit Research and Innovation Consortium
Port Hope Area Initiative
Spark Centre
BlancRide
Plug'n Drive
Regional Municipality of Durham
City of Oshawa
Township of Scugog
Town of Whitby