Area high school students get early taste of university life
Faculty of Business and IT stages its first-ever High School Week
June 6, 2016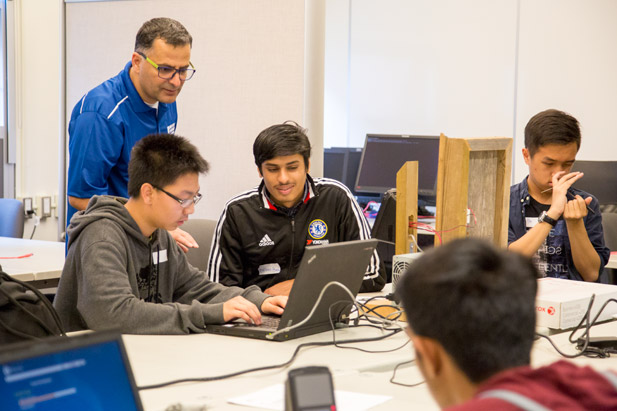 It's never too early for prospective university students to start thinking about the programs they might like to take after they finish high school.
With that concept in mind, the Faculty of Business and Information Technology (FBIT) at the University of Ontario Institute of Technology (UOIT) piloted a unique on-campus program for area high school students in grades 10 and 11 in late May.
FBIT's first-ever High School Week brought hundreds of students from across Durham and York regions to campus to experience a full day of hands-on activities in the fields of business or information technology.
Game Development and Entrepreneurship Day (held May 25):
This event included a presentation on the aspects of video game sound, followed by students recording their own sounds and adding them to a soundless game trailer.
Networking and IT Security Day (held May 26)
Students competed in teams in a computer security 'Capture the Flag' event featuring different Networking and IT Security challenges to receive points.
Business Case Competition for high school students (held May 27)
Using skills learned in their high school classes, students worked in teams to develop the best solution to a business-related case study. The day included team-building opportunities and input from industry speakers.
Participating schools
Anderson C.V.I., Whitby
Middlefield C.I., Markham
Milliken Mills H.S., Markham
Newmarket H.S., Newmarket