Congratulations, you've graduated! What comes next?
UOIT Career Centre launching exciting new program
June 15, 2016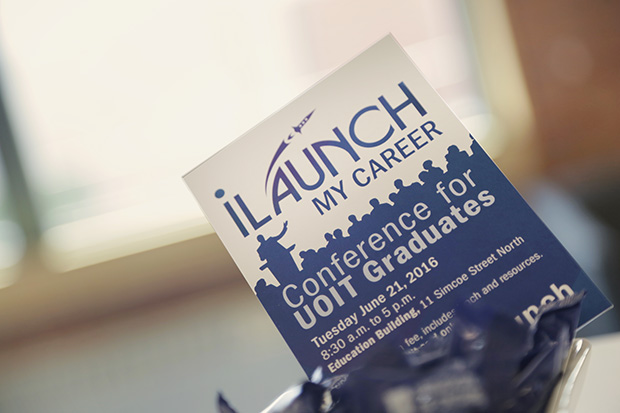 While more than 1,800 new graduates of the University of Ontario Institute of Technology (UOIT) received their degrees June 9 and 10 at Convocation, the university continues to help its newest alumni prepare for their transition into the workforce.
On Tuesday, June 21, the university's Career Centre will host iLaunch My Career, a first-of-its-kind one-day conference featuring interactive seminars, practical workshops and networking opportunities. Session topics include:
Who do you think you are? Self-exploration for career decision-making
Get LinkedIn: Understanding how and why you should use LinkedIn
Crafting an impactful resumé and cover letter
Outwit, outplay, outlast: How to survive and thrive in your next interview
Get suited up: Bring your best self to work
Media are invited to interview grads and the guest speakers – one is a UOIT alumnus who has transitioned into a successful entrepreneur; the other lives in Durham Region and works for 360 Insights. Both will share their own employment journeys and offer job-finding tips. 
When:
Tuesday, June 21, from 8:30 a.m. to 5 p.m.
Where:
Education Building
11 Simcoe Street North
Downtown Oshawa location
Media contacts:
Shenelle Payne Cuffy
Employment Advisor
UOIT Career Centre
905.721.8668 ext. 5621
shenelle.paynecuffy@ontariotechu.ca
Bryan Oliver
Communications and Marketing
University of Ontario Institute of Technology
905.721.8668 ext. 6709
bryan.oliver@ontariotechu.ca