Study abroad opportunities taking off at UOIT
June 16, 2016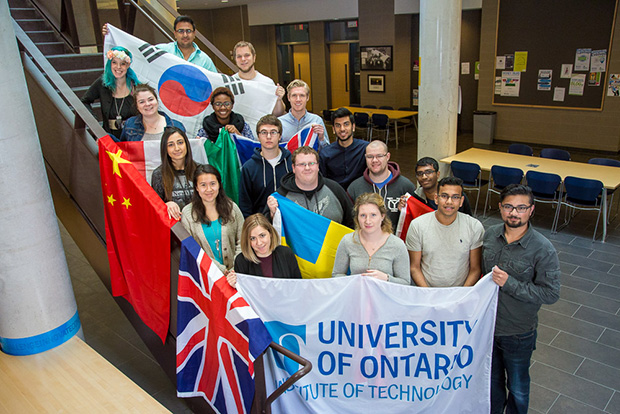 A whole world of opportunity awaits dozens of University of Ontario Institute of Technology (UOIT) students this summer as the largest group in the university's history embark on international exchanges.
A total of 43 students will take part in study abroad opportunities with partner universities around the globe.
Among them:
Madison Hill, a third-year Kinesiology student in the Faculty of Health Sciences (FHS) who is participating in a three-month 'Kinternship' in Trinidad and Tobago through the Queen Elizabeth II Diamond Jubilee Scholarship program*. Her experience involves working with sports therapists, being a part of injury evaluations, working with strength and conditioning staff, and accompanying teams to competitions.
Rachit Desai, a third-year Medical Laboratory Science student in FHS who is participating in an international exchange program at Nanyang Technological University (NTU) in Singapore. He is the second UOIT student to join the NTU Summer Trailblazer Exchange program**. The exchange includes two summer terms and three courses: Business Finance, Fundamentals of Management, and Bio-Printing.
A year ago the university launched its International Plan 2015-2020, which set increased global learning opportunities as a key strategic direction. The number of UOIT undergraduate and graduate students studying abroad in 2016 is more than double that of 2015.
The university continues to expand its partnership portfolio throughout the Commonwealth. In late May, the university hosted leaders from the Indian Institute of Technology (IIT) Ropar, signing an agreement to explore new research exchange and student mobility opportunities. Like UOIT, IIT Ropar is a new public university with a strong focus on science, technology, engineering and math (STEM) disciplines.
Background on international study abroad opportunities:
*The Queen Elizabeth II Diamond Jubilee Scholarship (QES) program helps young global leaders across Canada and the Commonwealth countries explore and gain international education and professional experiences through at-home and outbound cross-cultural exchanges. Through a partnership of Universities Canada, Community Foundations of Canada, and the Rideau Hall Foundation, the QES program is made possible with financial support from the Government of Canada, provincial governments and the private sector. In 2016, the university will send 13 students to Commonwealth countries through QES: Australia, Barbados, Malaysia, New Zealand, Singapore, Trinidad and Tobago, and the United Kingdom.
**The Global Exchange Mobility (GEM) Trailblazer program at Nanyang Technological University (NTU) offers a unique Asian adventure through education in classrooms, laboratories, or career learning at Singapore's leading science and engineering institution and one of Asia's top universities. 
Gallery