UOIT recognizes International Day Against Homophobia, Transphobia and Biphobia
June 3, 2016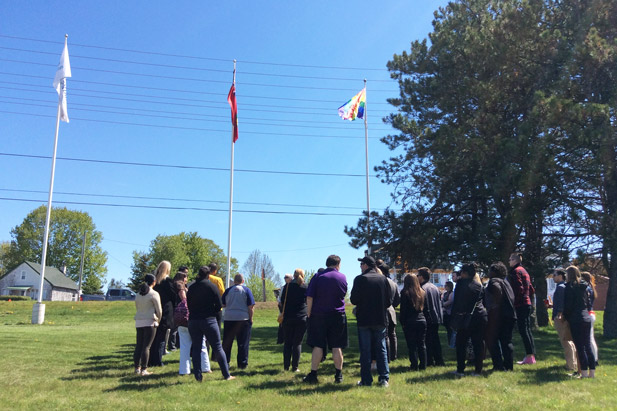 The University of Ontario Institute of Technology (UOIT) raised the pride flag for the first time on May 17 in formal recognition of the International Day Against Homophobia, Transphobia and Biphobia (IDAHOT).
Students, faculty and staff gathered in front of the flag poles at the north campus location, where they were joined by representatives from multiple community partners including PFLAG Durham and the AIDS Committee of Durham Region.
"By raising the flag, the University of Ontario Institute of Technology demonstrated solidarity with the millions of people across the world who came together on May 17 in support of human rights," said Olivia Petrie, Assistant Vice-President, Student Life. "This was an opportunity to demonstrate to our faculty, staff and students, and our community, that our university is dedicated to advocating for all students, celebrating diversity on campus and promoting positive social change."
IDAHOT began on May 17, 2004, which marked the day in 1990 when the World Health Organization removed homosexuality from its list of mental disorders. First recognized in Montreal, Quebec, IDAHOT is now celebrated in more than 130 countries, uniting millions of people in support for the upholding of human rights for all, irrespective of sexual orientation or gender identity or expression.