UOIT student-entrepreneurs' aquaponics idea takes root
June 28, 2016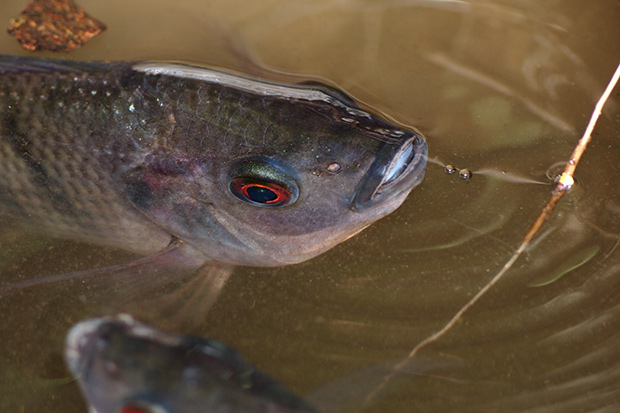 Aquaponics – the idea of mixing aquaculture (fish farming) with hydroponics (growing plants in water) – is not a new concept. From the Aztecs' floating raft growbeds, to the rice-growing techniques perfected on the paddy fields of ancient China, many different cultures throughout the centuries have depended on ecosystems where fish consume plants and plants in turn thrive on fish waste, creating closed-loop sustainable food sources.
Now students at the University of Ontario Institute of Technology (UOIT) have taken a 21st-century approach to aquaponics by designing their own unique symbiotic, self-contained system.
Michael Veneziano (Energy Systems Engineering, Faculty of Energy Systems and Nuclear Science (FESNS), class of 2018 (hometown: Mississauga, Ontario), and Timothy Sarvendran, Nuclear Engineering, FESNS, class of 2017 (hometown: Scarborough, Ontario), planted the seeds of their startup, Turnkey Aquaponics, during the 2014 Ignite Competition, a contest designed by Spark Centre to support young entrepreneurs with resources to accelerate their business plans into startup companies. As Turnkey's co-founders, Veneziano and Sarvendran pitched the idea of creating an affordable, efficient aquaponic system for competitive and sustainable farming.
Aquaponic systems typically use high levels of heat and electricity. Turnkey's design helps reduce water and energy consumption compared to traditional agricultural and other aquaponic methods, and makes it possible to grow plants year-round in any environment, from cities to remote communities. The goal is to provide commercial farmers, growers and/or hobbyists with plug and play systems that they can start using right away.
The result: a faster, cheaper, more environmentally friendly farming method that could make fresh food more accessible to a larger percentage of the population.
The pair won $5,000 in the Ignite competition's Student Entrepreneur Award category, which propelled the company into a phase of rapid growth. Incorporated in 2015, Turnkey now has a team of 12, including UOIT students:
Chirag Karia, Software Engineering, Faculty of Engineering and Applied Science (FEAS), class of 2017.
Abinaya Loganaathan, Life Sciences, Faculty of Science, class of 2017.
Henry Fung, Mechanical Engineering, FEAS, class of 2016, who will enter the university's Mechanical Engineering master's program in Fall 2016.
Michael's father, Tony Veneziano, an Aerospace Engineer, and Michael's brother Daniel Veneziano, a Mechanical Engineer, are also part of the group.
One of Turnkey's main partners at the university is Dr. Glenn Harvel, Associate Professor, FESNS. Dr. Harvel has provided laboratory space for the company to develop the three technologies that will integrate into its system:
Combined heat and power (CHP) system that uses compost to produce heat and electricity. Dr. Harvel and the Nuclear Design Laboratory are providing Turnkey with design, modelling and analysis support for this project – specifically the instrumentation needed for the prototype test rig and assistance with research/literature review.
Cloud-based data acquisition and control system, which will provide chemical analysis and real-time operating conditions, and allow farmers to observe their agricultural systems through laptops, smartphones and other smart devices.
LED grow lights, which have a greater lifespan and consume less energy than incandescent and compact fluorescent lights.
"Over the past year we focused on the development of these individual pieces, as they are all technologies a full aquaponic system would need to be cost-competitive with other forms of agriculture," explains Veneziano. "These technologies will also be marketable as stand-alone products."
Turnkey anticipates offering its LED grow lights for sale this summer, and having the full system ready to market by 2017.
Firefly Entrepreneurship awards - $6,500 in 2015 and $5,000 in 2016 – provided the resources Turnkey needed to ramp up its operations. The university's Brilliant Entrepreneurship program (UOIT Brilliant) also played a key role in Turnkey's success.
"As a couple of engineers who started up a company, our business literacy was not sufficient to be successful," Veneziano explains. "With the help of UOIT Brilliant we acquired the skills we need to successfully manage our business. We spent our first year with UOIT Brilliant focusing on developing our technology and researching our market and potential customers. The support we received through accounting, finance, and legal advice, as well as workshops, presentations and access to experts on campus equipped us with the knowledge we required to further develop our business model."
UOIT Brilliant mentors are currently helping Turnkey develop a marketing and sales strategy, as well as a market study for the LED grow lights.
About UOIT Brilliant Entrepreneurship
Brilliant Entrepreneurship (UOIT Brilliant) is the university's non-credit entrepreneurship program. Brilliant is supported in part by FastStart and Incubate, Innovate Network of Canada (I-INC). FastStart is a member of the ONE network and is funded in part by the Ontario Centres of Excellence. I-INC is supported in part by the National Research Council Canada.