Faculty of Science profs huddle up on latest teaching tools
September 15, 2016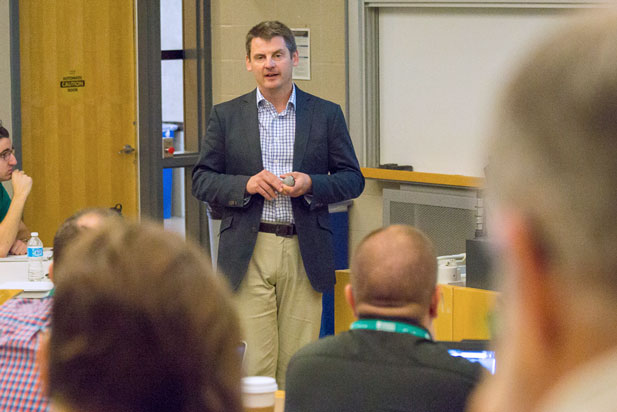 The University of Ontario Institute of Technology's (UOIT) Faculty of Science (FSCI) is invigorated for an exciting new academic year.
Professors, lecturers, lab instructors and teaching assistants held a robust one-day brainstorm September 1 on how to best apply the latest education research in their classes and labs.
Aimed at driving student success, FSCI's Symposium for Effective Teaching and Learning in the Sciences explored modern methods of effective teaching and learning in science at the university level. Faculty members also shared some of the innovations they have been testing and using in their own classrooms.  Topics ranged from engaging, interactive approaches in the classroom and best practices in large classes to hands-on experiences with contemporary, industry-relevant technologies (like Raspberry Pi computers in Physics labs and tablets for data collection and analysis in Forensic Science labs). 
Keynote speaker Simon Bates, Professor (Physics and Astronomy), University of British Columbia came to the university to share his insights on what defines the 'ideal 21st century educator.'
"Our teaching and learning roles are becoming more complex: increasing class sizes; more heterogeneous cohorts in terms of prior study and future aspiration; increasing transparency and accountability; and a rapidly changing technology landscape," says Dr. Bates. "In addition to the obvious mastery of content within one's own discipline, we require a whole host of additional expertise, including an appreciation and understanding of what research can tell us about how people learn, an openness to the promise (and limitations) of technology to support teaching and learning and above all, a scholarly approach to the business of teaching."
"Instructors now have greater access to new learning technologies and, more importantly, modern research-based ideas about how students actually learn," says Joseph MacMillan, PhD, Chair, FSCI Science Education Committee, and Symposium Chair. "We need to make sure faculty know about these developments and how to adapt their teaching styles, as well as be able to conduct their own research into student learning in their classrooms. Students have a wider range of values, of distractions, and of interests, so we need to test new approaches, engage students in different ways, and see what improves learning."
"The symposium was a really stimulating experience and the response from attendees has been overwhelmingly positive," says Rupinder Brar, PhD, Symposium Committee member. "I have no doubt we'll want to run another symposium in the not-too-distant future."
"We'll plan to extend our reach next time to bring in more colleagues from other universities and other relevant faculties, to share more about the best, most effective approaches to teaching and learning," says Greg Crawford, PhD, Dean, FSCI. "The Faculty of Science aims to be one of the most progressive science faculties in Canada.  And who will benefit from all of this effort? Our students."
The faculty's September symposium comes on the heels of FSCI's launching of its innovative Saturday Science Café program last winter. That program, which returns this fall, provides students with a voluntary option for extra help from faculty mentors outside of regular classroom and lab hours.
Faculty of Science – Science Education Committee
Joseph MacMillan (Chair), Undergraduate Program Director and Senior Lecturer (Physics)
Rupinder Brar, Senior Lecturer (Physics)
Randy Fortier, Lecturer (Computer Science)
Cecilia Hageman, Undergraduate Program Director and Assistant Professor (Forensic Science)
Nelson Lafreniere, Lecturer (Forensic Science)