Campus community celebrates newest athletic facilities
November 30, 2016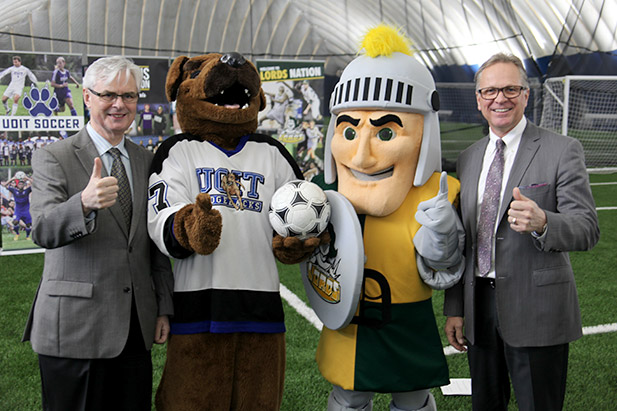 The campus community's impressive list of leading-edge athletics facilities grew this fall with the opening of the Campus Fieldhouse, a multi-sport turf centre. The transformed facility (formerly the Campus Tennis Centre), features two playing fields that can accommodate a variety of intramural sports and activities including soccer, field lacrosse, ultimate, flag football and bubble soccer, among others.
The facility opened officially on November 24 with a ribbon-cutting by President Tim McTiernan, University of Ontario Institute of Technology, and President Don Lovisa, Durham College. The celebration saw university and college students participate in an exciting score-to-win contest and intramural game of soccer.
Campus Fieldhouse facts and benefits:
Creates new year-round recreational space for students on the shared campus location of Durham College and the University of Ontario Institute of Technology in north Oshawa.
Provides new opportunity for students and the community to participate in wide variety of sports activities.
New facility available for varsity athletics teams to train and prepare for competition (DC Lords, UOIT Ridgebacks)
Approximate size: two adjacent fields, each measuring 30 by 45 metres (100 by 150 feet), separated by a vertical net. 
Turf composition: Artificial sand-based infill grass system (similar to the surface used by the Toronto Blue Jays at Rogers Centre).
Change rooms, featuring full amenities.
Hours: 9 a.m. to 11 p.m., seven days a week.
The Campus Fieldhouse sports bubble is located along Founders Drive, near the Campus Ice Centre and Vaso's Field (north of Conlin Road and west of Simcoe Street).
Quote
"We are excited to celebrate the opening of the Campus Fieldhouse, a facility that opens up a new world of athletic and recreational opportunities for college and university students. Transitioning the tennis centre into the fieldhouse has been a positive move for students on campus and will also be a key hub of community activities in the years ahead."
-Ken Babcock, Director, Campus Athletics
When not being used by the Department of Athletics, the Campus Fieldhouse will be available for rentals to community recreational sport house leagues and team sport organizations. It can even be rented for birthday party celebrations.
To learn more about Campus Fieldhouse availability, contact Marta Prado or call 905.721.3122. Facility updates are posted at campusicecentre.com.