Faculty of Business and IT launches new Entrepreneurship program
Options to major or minor prepare students with the tools to start a business
December 12, 2016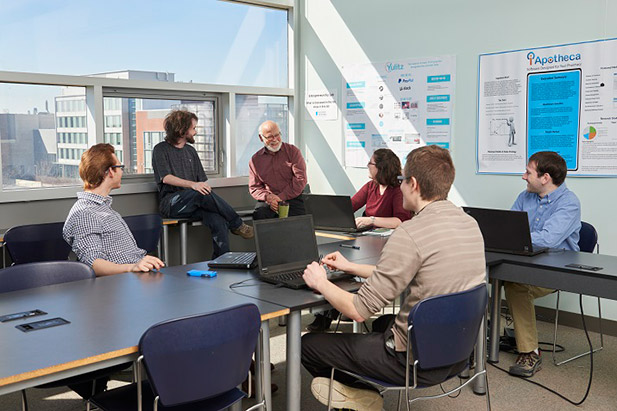 In today's dynamic workplace, young people are better equipped to start their own companies. The University of Ontario Institute of Technology's new Entrepreneurship program provides students with the critical business skills need to run a successful company.
The Faculty of Business and Information Technology offers a major in the Bachelor of Commerce (BCom) program, or a minor in the Bachelor of Networking and IT Security (BITS) program. Students enrolled in any of the university's programs can pursue the Entrepreneurship minor.
This program prepares graduates to start their own business. Students gain extensive knowledge of management with a focus on the opportunities and challenges of entrepreneurship. They will also explore creative idea generation, small business management, lean venture creation and entrepreneurial finance. BCom Entrepreneurship majors will put theory to practice in FBIT's Incubator Program or in an internship with an entrepreneurial startup company.
Entrepreneurship program highlights
Introduction to each functional area of business: accounting, finance, organizational and human resources, and marketing.
Focus on Lean Startup–the process of starting and growing a company with maximum acceleration.
Students commit to their own entrepreneurial venture through the two-semester FBIT Incubator Program. This program includes physical space, resources, guidance, mentoring, expertise and financial guidance to participants in all phases of their company's development.
Why the University of Ontario Institute of Technology?
It's the second university in Ontario to offer both a major and minor in Entrepreneurship. In most cases, minor options are restricted to students in business. Only two universities offer a minor in Entrepreneurship to non-business students. 
Exceptional experiential hands-on learning opportunities include:
Strength in informatics and entrepreneurship
Entrepreneurship incorporates directly into many of the university's research areas. Professors in all faculties work with information and communication technologies (ICT) and engage industries (from student startups to CISCO and IBM) to build tools, services, and products.
Connections with the community and beyond
FBIT is a leader in facilitating internships with entrepreneurial startups, both locally and internationally. The university collaborates extensively with regional community partners such as Durham Region's Spark Centre and the Northumberland Manufacturers Association. Each organization facilitates entrepreneurship support services for students, new company formation and knowledge application.
The university's future Centre for Advanced Research, Innovation and Entrepreneurship (CARIE) will also complement existing entrepreneurship-related support from the FastStart program (which partners with Durham College, Fleming College and Trent University).
Related link
Contact
Bryan Oliver
Communications and Marketing
University of Ontario Institute of Technology
905.721.8668 ext. 6709
bryan.oliver@uoit.ca