FSSH Poster Day opens 'a constellation of directions'
Students ready themselves for the workplace through practical experiences
December 22, 2016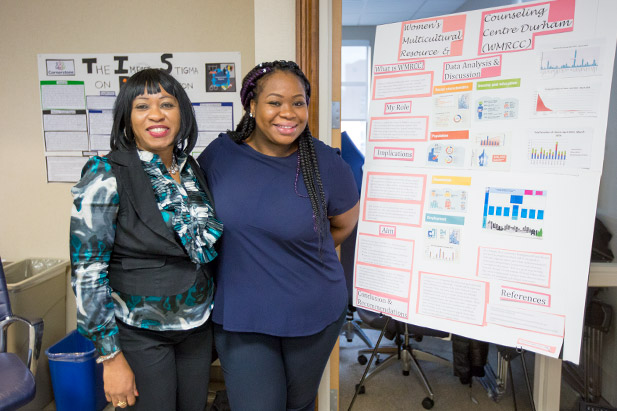 Learning theory and discussing strategy in a classroom setting is excellent preparation for what's to come in the workplace after graduating from university. But nothing quite compares to having the opportunity to roll up one's sleeves and apply all of those lessons toward a real-life scenario in the community.
Gaining practical experience is a curriculum cornerstone in the Faculty of Social Science and Humanities (FSSH) at the University of Ontario Institute of Technology. The faculty has established strong partnerships with a wide array of leading social and legal services organizations in Durham Region and across the Greater Toronto Area. Each organization affords FSSH students the chance to engage the real world through 100-hour practicum placements.
"This is by no means a 'paint-by-number' experience, but rather, a self-directed learning opportunity that trains our students through meaningful work situations," says Dan Walters, FSSH Practicum Co-ordinator. "The accompanying Practicum course helps students navigate their personal, professional and academic goals. Students from all five FSSH programs are taught how make sense of their experience and to explore the constellation of directions available to them."
In early December, 50 practicum students presented academic posters before a diverse range of community partners, university faculty and staff, and fellow students. Each participant summarized their findings, observations and field experiences.
"The poster experience challenges students to engage the workplace, say something new and back up their opinions in everyday language," says Walters. "We've had hundreds of success stories over the years. Students learn how to develop their 'elevator pitch', which demonstrates their awareness of the issues, prepares them for interviews and shows prospective employing organizations that they are ready to lead."
Here's what a few students and community participants had to say at Poster Day 2016:
Sandra Edobar (Legal Studies, class of 2017)
Women's Multicultural Resource Centre of Durham
"I entered the Legal Studies program as a college-to-university transfer after graduating from the Legal Administration Law Clerk diploma program at Durham College. The organization I worked with helps multicultural women find the counselling they need. Many of them, whether they are permanent residents or immigrants, don't know where to turn for help. My project opened my eyes that there are more than just often-expensive legal services available."
Alyssa Shaver (Legal Studies (minor: Communication), class of 2017)
Region of Durham, Social Services Department
"Even within the same large organization, individual workplaces under the larger umbrella can have different cultures. Some offices have 'unwritten rules' and take different approaches to applying new ideas. My work with the Region explored development of the Region's Innovation Lab, an initiative developed by the Region's Innovation and Research Unit to integrate communication between the Department of Social Services' six divisions. The aim is to provide a safe space for staff to explore new ideas while gaining new perspectives from others. The overarching goal of the Innovation Lab is to translate a new culture of openness into greater workplace effectiveness and improved service delivery."
Kayleen Mertz (Forensic Psychology and Criminology, class of 2017)
Region of Durham, Victim Services
"Those who work with the vulnerable and/or with victims, regardless of age, sex or creed, can often struggle with what they've encountered while trying to help others. Whether this is domestic violence, encountering fatalities or tragic circumstances, crisis responders see a lot of difficult things on a daily basis. The intent of the research I worked on was to ensure the public is apprised of the sensitive balance that is required by a crisis responder; to sustain a positive impact on these individuals, they too must take care of themselves. By establishing awareness of vicarious trauma early on within their careers, crisis responders are better able to provide support to vulnerable persons within society. Knowing self-care will allow them to be more efficient in their crisis responder role, especially because it is such an essential service and benefit to the community."
Kseniya Korolova (Forensic Psychology, class of 2017)
City of Toronto, Parkdale Probation and Parole Office
"Many individuals on probation live with mental illness. My education focuses on psychology applied to law. Working directly with a probation officer, I was able to gain a stronger understanding of how to work with people who live with mental illness, and how to apply and enhance psychology knowledge. I realized throughout my placement the importance of applying learned skills in the field. I truly appreciate the opportunity for working with such a great professor, Dan Walters, as well as my staff liaison Marta Scheremeta, who allowed me to learn and work with people who need help and support."
Elizabeth Atienza (Forensic Psychology, class of 2017)
Durham Regional Police Service
"In the social services workplace, there needs to be an effective safety program for those providing the services. For police officers working in say, the child exploitation unit, there are workplace risks such as post-traumatic stress disorder. In short, we need to know how to 'help the helpers'. By taking a proactive approach through consideration like the availability of peer support, family assistance, education and awareness, we can reduce work time lost due to sick leave, and shorten the turnaround times for people to return to doing the jobs they do best."
Victoria Paterson (Community Development and Policy Studies*, class of 2017)
Canadian Environmental Law Association
"My work explored the creation of a federal tax credit for Canadian homeowners impacted by radon gas emissions. Radon gas is a product of the breakdown of uranium, which can often be detected in homes. Radon gas is the second-leading cause of lung cancer in the country. Mitigation normally requires drilling a pipe beneath the house to redirect or vent the gas to dissipate in the air. Drilling can cost anywhere from $500 to $3,000. A tax break would allow more Canadians to address this important health concern."
Sadaf Ahmed (Community Development and Policy Studies*, class of 2017)
St. Stephen's Community House
"My placement involved identifying the cost efficiencies and benefits for municipalities in terms of using mediation as a form of conflict resolution, rather than peace bonds. Peace bonds between disputing parties require legal expenses. Agreements tend to be time-limited and they cause communication between the parties to cease. Mediation promotes greater (long-term) communication, treats each side equally, generally meets with greater compliance, and reduces cost pressures for police services (enforcement) and in turn, taxpayers."
*FSSH program now named Political Science
Nicole Smith (Forensic Psychology (minors: Criminology and Communication), class of 2017)
Ministry of the Attorney General, Special Investigations Unit
"When police officers are involved in incidents where someone has been seriously injured, dies or alleges sexual assault, the civilian Special Investigations Unit (SIU) has the statutory mandate to conduct independent investigations to determine whether a criminal offence took place. The SIU is in place to help ensure community confidence in policing powers. I explored pros and cons of interview methods such as the Reid interrogation technique (often criticized for eliciting false confessions from innocent people) versus the PEACE (Planning and Preparation, Engage and Explain, Account, Closure, Evaluation) active-listening technique."
Wayne Hingston, Community Partner
John Howard Society of Durham Region
"Partnering with the University of Ontario Institute of Technology over the years has been a tremendous opportunity for the John Howard Society. Students get to see the benefits of the Society's harm-reduction and literacy programs. Students bring great new ideas to the mix and some may even challenge existing ideas that help us improve the methods we use to ensure effective, just, and humane responses to crime and its causes."
Gallery