Local post-secondary leaders forge stronger ties with Irish institutions
International symposium in Oshawa explores latest trends in higher education
December 2, 2016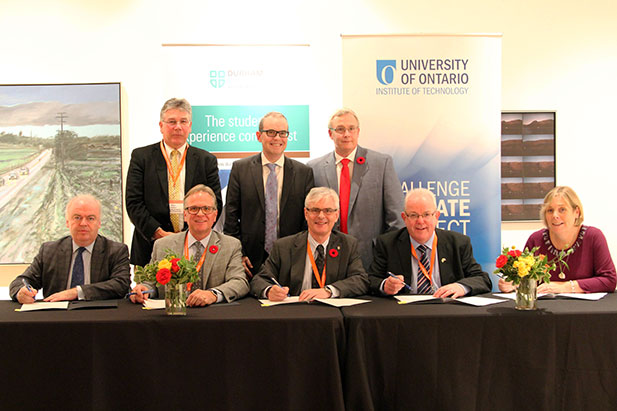 Expanded international opportunities for student exchange and research collaboration in Ireland are on the horizon following the signing of a new agreement by the University of Ontario Institute of Technology (UOIT), Durham College (DC) and the Technological University for Dublin Alliance.
UOIT and DC jointly hosted their counterparts from Ireland to explore new ways of improving all aspects of higher education – from curriculum and pedagogy to student experience supports. The Higher Education in Transformation Symposium (HEIT) spawned robust discussion between academic leaders, as well as Canadian and Irish government officials. Among the dozens of speakers at HEIT was Jim Kelly, Ireland's Ambassador to Canada. 
Key topics of discussion at HEIT included:
Creating new higher education programs to meet 21st-century demands.
Keeping up with rapid technological changes to ensure students receive a cutting-edge education.
Building on unique, hybrid post-secondary relationships, such as the UOIT-DC example as well as Ireland's new trilateral Technological University for Dublin Alliance.
As part of HEIT, the university and the college signed an international Memorandum of Understanding with their Irish counterparts to create the Canada-Ireland Centre for Higher Education Policy and Practice. The Centre will promote inter-institutional research collaborations, joint publications, joint conferences and international exchange opportunities for faculty, staff and students. The Centre's activities will also focus on exploring new initiatives in higher education policy and practice in both countries, and more broadly.
Quote
"Changes in higher education aren't confined to just Ontario and Canada, but the rest of the world looks to our region to demonstrate how post-secondary institutions can evolve and work together to remain relevant. Colleges and universities can work together to actively design post-secondary education in the coming decades. We can learn a lot from the Irish education model, but we have many great ideas to share with them as well."
-Brian Campbell, PhD, HEIT Symposium Co-Chair.
Background information
The Higher Education Quality Council of Ontario (HEQCO) has long-focused on differentiation among post-secondary institutions and promotes non-traditional educational approaches as 'the new normal'. HEQCO has cited the UOIT-DC relationship in Oshawa as an excellent example of initiatives such as building alternative pathways toward seamless college-to-university transfer opportunities for students, and vice versa.