Ontario Premier turns up an ACE at the University of Ontario Institute of Technology
February 6, 2017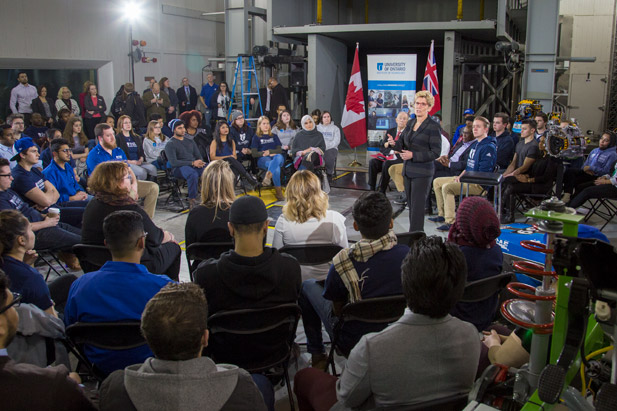 Ontario Premier Kathleen Wynne visited the University of Ontario Institute of Technology today, where she met with students and discussed student debt, the Ontario Student Assistance Program (OSAP), and other current topics of interest.
Premier Wynne was joined by the Honourable Tracy MacCharles, Minister of Government and Consumer Services, Minister Responsible for Accessibility, and MPP for Pickering—Scarborough East; Granville Anderson, MPP for Durham; and Joe Dickson, MPP for Ajax-Pickering.

During the Premier's visit to the north Oshawa campus location, she toured the university's innovative Games and Media Entertainment Research (GAMER) Lab and the Automotive Centre of Excellence (ACE) facility, and took part in a round table discussion with nearly 70 students.

At the GAMER Lab, the Premier enjoyed a student-led demonstration of a serious game developed to train surgeons to perform knee surgery. Surgeons are able to view operating activity onscreen while haptic devices allow them to experience what it feels like to hold and use the surgical tools.

In ACE, the Premier toured one of the largest and most sophisticated climatic wind tunnels (CWT) on the planet. There she learned how in the CWT, wind speeds can reach 300 kilometres per hour with temperatures that range from -40 to +60°C. Solar arrays and storm generators in the CWT create any weather condition imaginable, from sweltering jungle downpours to the paralyzing cold of an arctic storm.
The event was part of a series of visits by Premier Wynne to higher education institutions across the province.
University of Ontario Institute of Technology students are some of the neediest students in the province. Sixty-two per cent of full-time students receive much-needed OSAP to help pay tuition, student fees, books and living expenses.
Quote
We applaud the government's improvements to OSAP, which ensures our students receive the financial support they need to further their education and become productive members of Ontario's economy."
-Tim McTiernan, PhD, President and Vice-Chancellor
Media contact
Bryan Oliver
Communications Officer
University of Ontario Institute of Technology
905.721.8668 ext. 6709
bryan.oliver@uoit.ca
Gallery