Welcome to the world's most extreme classroom
ACE brings theory and practice together in a remarkable educational setting
February 1, 2017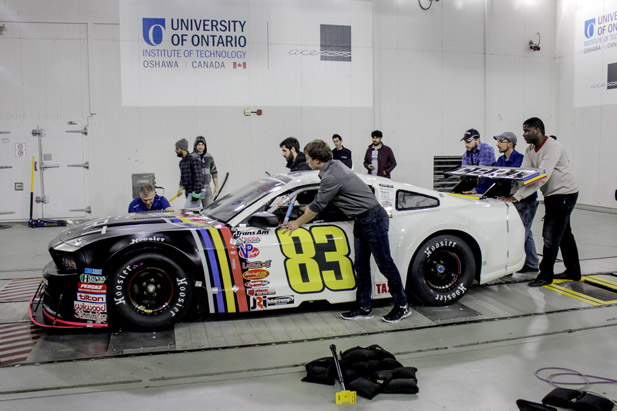 The University of Ontario Institute of Technology (UOIT) takes a unique approach to post-secondary learning. The university's ACE packs a powerful punch with its vast research and testing capabilities alongside its climatic versatility. It all adds up to a learning environment that is at the forefront of innovation.
The ACE Climatic Wind Tunnel (CWT) has evolved into one of the most advanced environmental classrooms in the world. The advanced CWT provides incredible learning opportunities in disciplines ranging from automotive engineering to health science to emergency response. Students participate in hands-on, interactive simulations that facilitate an enriched learning environment, ultimately allowing for greater retention.
Dynamic workshops in ACE's additional climatic chambers offer students the chance to gain practical skills that will help them become immediate contributors to Canadian businesses and organizations. ACE's wide variety of workshops are available not only to the university's students, but also to students from other Ontario post-secondary institutions, as well as professionals and members of the community.
Dynamic workshops options:
Automotive workshops: topics include aerodynamics, thermodynamics, climatic and life-cycle testing, as well as dynamometer engine tuning.
Emergency response workshops prepare first-responder trainees for the physical and cognitive stresses encountered in emergency situations and optimize their physiological performance under extreme circumstances.
High-performance workshops delve deeper into the study of the effects of environmental conditions on biomechanics and sports physiology. 
Advantages of educational workshops at ACE:
Students develop theory into practice and apply complex concepts in real-world scenarios.
Exciting and open atmosphere where students work as part of dynamic teams and leverage their collective knowledge to solve complex problems.
Workshops led by industry professionals who share knowledge attained through years of work experience.
Prepares students for the workforce by increasing their familiarity with potential work environments and introduces common practices in their chosen discipline.
A truly one-of-a-kind, world-class training and testing facility. 
Quote
"Training in real-world environments provides the opportunity to better understand the challenges that may be faced while on-the-job."
-Michael Williams-Bell, graduate, University of Ontario Institute of Technology; and Professor, School of Health & Community Services, Durham College
Related workshop:
ACE contact
Colin Howard
Marketing Specialist and Account Manager, ACE
colin.howard@uoit.ca
289.688.0930