Dr. Samantha Nutt: Why every day should be International Women's Day
April 28, 2017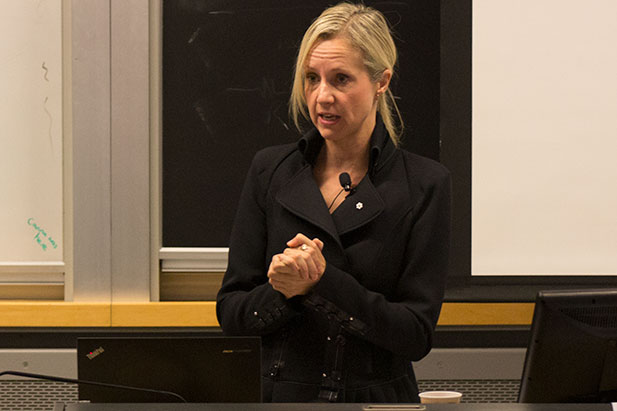 "We shouldn't have to wait 364 days to have this talk."
– Dr. Samantha Nutt
On March 30, leading women's rights advocate Dr. Samantha Nutt encouraged students at the University of Ontario Institute of Technology to engage with and examine the challenges women face all around the world. In her talk entitled When Women Lead, the Founder and Executive Director of War Child Canada discussed how to help women realize their potential, and how to help change men's views to advance women's equality further.
Dr. Nutt asked the audience if any of them ever doubted themselves. As hands rose, she lifted her hand as well.
"There was once a time in my life, in my early teens and early 20s, when I would not leave a voice mail for fear of sounding or feeling stupid," she said. "Those voices in our heads, those voices in young girls' heads, that paradox that we are not good enough: those are what need to end."
Dr. Nutt's talk covered three themes:
Ignore the blowhards
Her first piece of advice was not to let the higher-ups belittle your ideas and make you lose hope. She recalled a time when she was in a board meeting pitching her idea about War Child Canada. Twenty minutes into the presentation a board member stopped her to tell her that war-torn children "aren't marketable." When she left the board meeting she was near tears, but she did not let that weaken her resolve.
"Just because someone writes with authority or has authority, doesn't mean they are authority," she said.
If no one is listening, do not shout; change the message
You need to understand your audience first if you want them to understand you. Dr. Nutt recalled the free concert War Child hosted in Winnipeg, Manitoba in 2001, headlined by The Tragically Hip. In between performances, each time Dr. Nutt went out on stage to try to raise money for War Child, the crowd only cheered "Hip! Hip! Hip!" She was frustrated and ready to give up, when The Tragically Hip Lead Singer Gord Downie noticed her stress and spoke with her. When Downie went back on stage, he got the crowds to quiet down and simply asked fans to "put the money in the cup." With that one appeal to his audience, Downie helped transform a $5,000 fundraising result into $350,000.
Know your 'why'
It might sound simple, but you need to know what motivates and drives you. When you feel like you are unsure of your path, turn to your 'why' to keep focused. In Dr. Nutt's case, it's the story of a girl in a third-world country who faced traumatizing events yet still remained strong.


Quote:
"The University of Ontario Institute of Technology was honoured to have Dr. Samantha Nutt present an engaging, thought-provoking and entertaining talk on campus that both celebrated women's leadership, and reminded us that the women's movement is still unfinished everywhere. This talk ties in with the university's commitment to healthy conversations related to gender, sexuality and other topics that matter to the entire university community."
- Miles Bowman, PhD, Special Projects, Office of the Provost