Life Sciences students shed new light on brain tumours, win research competition
May 11, 2017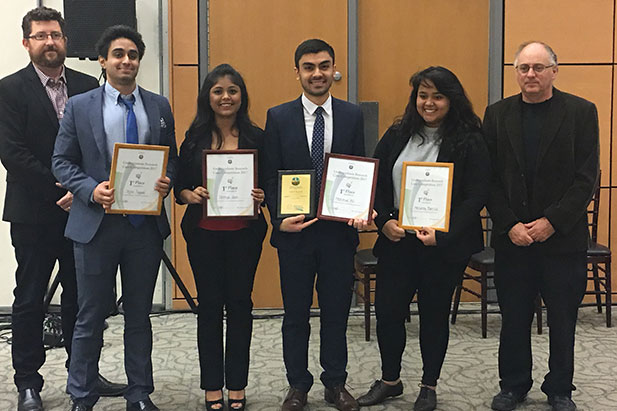 A brain tumour diagnosis can be a life-altering event. The term 'brain tumour' itself carries frightening connotations and expectation of a difficult medical battle ahead for patients.
As science continues to unlock new answers on brain tumour treatments, tomorrow's research leaders hope they can contribute new ideas to the discussion. With that goal in mind, University of Ontario Institute of Technology (UOIT) Life Sciences students—Mahmud Ali, Melanny Barrios, Shreya Jain, and Tejus Tuppal—entered the Students Advancing Brain Cancer Research (SABCR) Undergraduate Research Competition, held at McMaster University in Hamilton, Ontario.
"We had received a case study at the end of January regarding an individual named 'Jane' who had a type of brain tumour called Oligodendroglioma," said Shreya Jain. "We were asked to create a research proposal that would one day lead to helping patients with this condition."
As one of eight finalists, the Faculty of Science (FSci) team went to McMaster in late March with their proposal and prepared a 10-minute presentation.
They won.
"We were completely shocked and ecstatic that we came first place!" says Jain. "Many came up to us afterwards to ask more about which school we were from. It was an extremely proud moment for us to represent the University of Ontario Institute of Technology."
Originally a McMaster-only event, this was the first year SABCR was open to all Ontario universities.
"I tried to encourage them that this was a great opportunity and to apply what they had learned throughout their undergraduate courses in their proposal," says Dr. George Stamatiou, Senior Lecturer and Laboratory Co-ordinator, Faculty of Science. "I advised them to clearly explain their experimental setup the way they would set up an experiment in our labs: with the necessary background research, clear hypothesis and proper controls."
The students went beyond the list of potential topics for treatments.
"The students chose an innovative technique that has been getting a lot of attention in scientific research," explains Dr. Stamatiou. "The genome editing system known as CRISPR/Cas9 has many potential applications in medicine. The students discovered in literature that patients with the specific type of brain tumour assigned in the competition (Grade II Oligodendroglioma) are missing specific chromosomal regions. The absence or deletion of these chromosomal regions increases the effectiveness of the chemotherapy drug Temozolomide, increasing patient life expectancy. Knowing this, the students proposed using the CRISPR/Cas9 system to artificially delete the specific chromosomal regions in patients that did not possess these deletions naturally. Doing this will improve the performance of the chemotherapy drug."
Dr. Stamatiou proudly emphasized the students' achievement comes on top of an already full workload.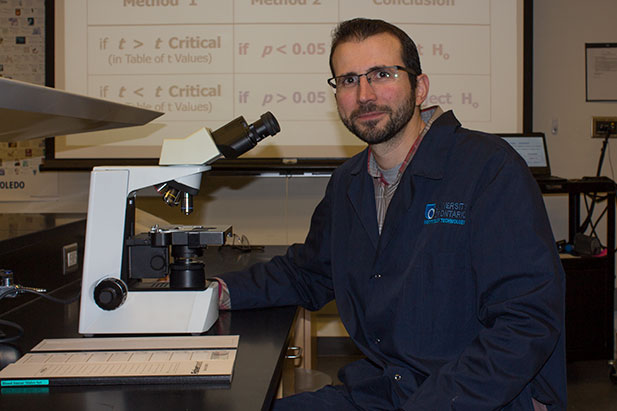 "They found time out of their busy schedules to write a proposal in the middle of the semester while other course assignments and tests were taking place. That speaks volumes about their dedication and ambition."