Bermudian secondary school students foster passion for science and technology
July 4, 2017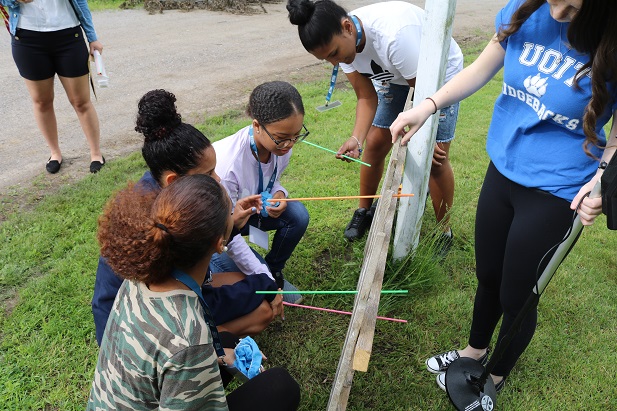 Studying abroad is enticing, but the thought of leaving your family and friends to pursue your post-secondary education in another country can be intimidating. What will university life be like in a foreign country? What learning opportunities will you have?
A total of 29 secondary students from two different Bermudian schools recently had a chance to explore these questions and more during their visit to the University of Ontario Institute of Technology.
Senior students from Warwick Academy (WA) visited campus June 13 to 18, followed by Bermuda High School (BHS) students June 20 to 27, to check out some of the university's unique science, technology, engineering, art and mathematics (STEAM)-based programs and get a taste of post-secondary life. WA is an independent co-educational school for students aged 4 to 18, and the oldest continuously operating school in the western hemisphere (355 years). BHS is a private, mostly-girls' school with a strong focus on STEAM education.
"Both Warwick Academy and Bermuda High School have a reputation for academic excellence, and for instilling in their students a passion for learning and leadership so they can go on to bring positive change to their communities," said Joe Stokes, the university's Associate Registrar, Enrolment Services. "The University of Ontario Institute of Technology was pleased to host these students on campus and provide them with an international experience that complements their studies."
Students learned about the physics of boat sails and participated in an engineering design competition, building and racing sailboats inside the university's Environmental Wind Chamber Laboratory.
They also checked out mock scenario investigations at the Crime Scene House on the Windfields Farm Lands and toured the Forensic Teaching Lab.
In addition, they heard from Electrical and Computer Engineering PhD candidate and university Three Minute Thesis competition winner Ololade Sanusi, who spoke about how she found her path in engineering.
Other activities included:
visit to the Treetop Eco Adventure Park
participating in a Durham Escape room challenge
geocaching
ice skating at Campus Ice Centre
taking in a Blue Jays game