University students engaging a world of opportunity
UOIT among Canada's top-participating universities in the Queen Elizabeth Scholarship program
September 5, 2017
Studying abroad continues to gain popularity at the University of Ontario Institute of Technology as more and more students explore international exchange opportunities as part of their academic program.
Through a growing list of agreements around the globe, each summer dozens of students take advantage of study-abroad placements with partner universities. In 2016, 43 students embarked on outbound international exchange study opportunities (more than double that of 2015). In 2017, the university expects the final number of exchanges to exceed 70.
One of the biggest avenues of opportunity is the Canadian Queen Elizabeth II Diamond Jubilee Scholarship program (QES). Created to improve global talent exchange between Canada and other nations, the QES program helps develop the next generation of innovative leaders and community builders.
In fact, the University of Ontario Institute of Technology was one of Canada's top-participating QES program participants in 2016-2017 (as a percentage of student population).
Quotes
"Thanks to this amazing lifetime opportunity, I was able to travel to Sydney, Australia for three months. My chemistry and forensic science research involves the decomposition of vertebrate remains. I was invited to the University of Technology Sydney as an honorary researcher by former University of Ontario Institute of Technology professor Shari Forbes, PhD, Director of the Australian Facility for Taphonomic Experimental Research (AFTER).
I had the rare opportunity to conduct human research trials alongside Dr. Forbes' team and expand my research tremendously. Canada does not currently have a research facility like AFTER.
I also had time to experience the vibrant city of Sydney and tour many attractions, including the breathtaking Blue Mountains, the Powerhouse Museum, the Sydney Opera House and the Sydney Harbour Bridge, and take the tethered Sydney Tower Eye SkyWalk tour. My life has been forever-enriched thanks to the QES."
-Angela Skopyk, PhD candidate (Applied Bioscience), Faculty of Science
"The QES was a chance to expand my perspective of the world, to learn more cultures and different languages, and apply my skills internationally. I experienced first-hand what living in Arusha, Tanzania is like, met many locals and learned some Swahili. The QES also funded me to join the Students Without Borders stream at Uniterra, an international volunteer co-op addressing socio-economic conditions of women and youth in countries such as Peru, Ghana, Malawi, Mongolia, Sri Lanka, Vietnam, Nepal and the Philippines.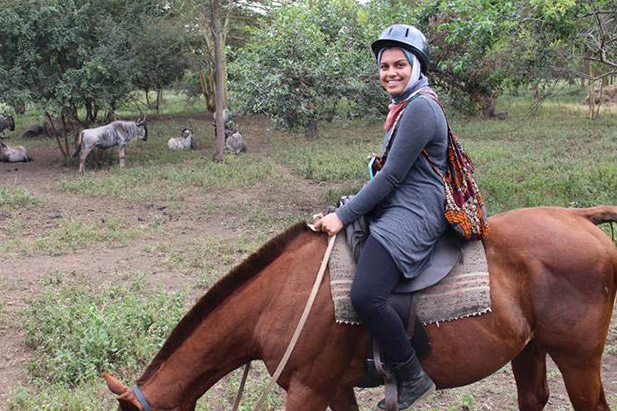 As a Youth Engagement and Entrepreneurship Officer in Tanzania, I visited primary and secondary schools, learned about students' aspirations, and saw the similarities and differences in the education system compared to Canada.
I have learned many things about myself. I will forever be grateful for having received this scholarship. The experience will continue to influence me for the rest of my life."
-Huda Sarwar, Electrical Engineering (class of 2018), Faculty of Engineering and Applied Science
"These enriched academic, professional and cross-cultural experiences facilitate lasting local and global community engagement for our students. Our students are involved in projects and initiatives that impact the world. Increased global learning opportunities is a key strategic direction for our university. We are here to open these career-building doors."
-Scott Clerk, Program Manager, International Office, University of Ontario Institute of Technology
Related link
About the Queen Elizabeth II Diamond Jubilee Scholarship (QES) program 
The QES program helps young global leaders across Canada and Commonwealth countries explore and gain international education and professional experiences through at-home and outbound cross-cultural exchanges. Through a partnership of Universities Canada, Community Foundations of Canada, and the Rideau Hall Foundation, the QES program is made possible with financial support from the Government of Canada, provincial governments and the private sector.