Awards of Excellence highlight university's commitment to student success
University recognizes achievements of campus community
December 11, 2017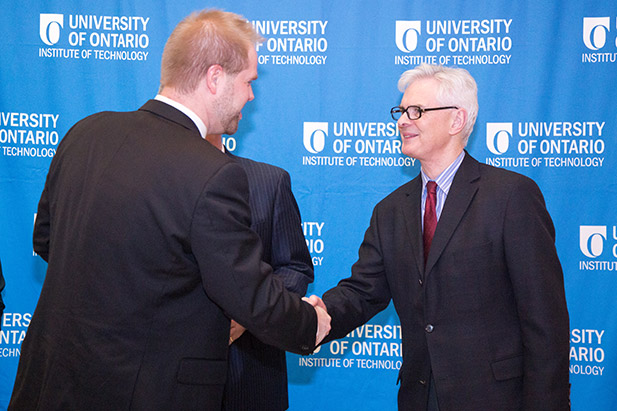 The University of Ontario Institute of Technology's annual Awards of Excellence recognition event honours individual commitment and celebrates team achievements over the past year by faculty and staff. The university celebrated the 2017 award recipients, nominees and the entire campus community on December 5.
Award categories:
The Team Excellence Award highlights a team that has demonstrated exemplary performance and has made significant contributions to the university.
The Staff Awards of Excellence recognize staff members who have made outstanding contributions in their roles and achieved excellence in demonstrating the university's core competencies.
The Research Excellence Awards recognize faculty who have achieved national and international success and recognition through their research activities and enhanced the university's reputation as a research-focused institution.
From the list of distinguished nominees, President and Vice-Chancellor Tim McTiernan, PhD presented:
Team Excellence Award
Staff Excellence Awards
Administrative/Technical: 

Clarissa Livingstone, Faculty of Science

Professional/Managerial: 

Monica Jain, Office of Student Life
Research Excellence Awards
Early-stage researcher (two awards presented for 2017): 

Hendrick de Haan, PhD, Faculty of Science
Shahryar Rahnamayan PhD, Faculty of Engineering and Applied Science

Senior researcher:

Pierre Côté, PhD, Faculty of Health Sciences
Teaching Excellence Awards
Starting in 2018, this category will include a wide range of new awards to capture the scope of teaching and teaching innovation demonstrated at the university. The new Teaching Excellence Awards for 2017 and 2018 will be presented at next year's ceremony. Details and nomination information are available on the Teaching and Learning Centre website. 
Gallery