Life Sciences student Amir Siddique: hoping to make the world a better place
First-year student earns opportunity to meet Michelle Obama, Sophie Trudeau
December 4, 2017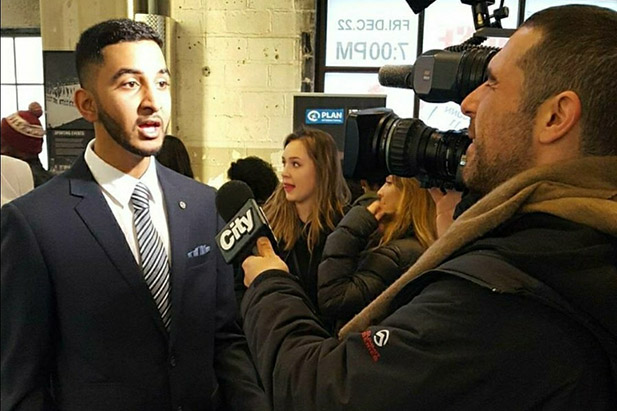 He may be 18 years old, but first-year University of Ontario Institute of Technology student Amir Siddique has already compiled an impressive list of leadership and community service achievements.
Siddique has a simple and straightforward mission: he wants to helps make a positive difference in community mental health and in the wellness of women. Little did he know that in late November his energy and drive would earn him an opportunity to learn more from some of the world's most influential voices in the advancement of women and girls.
How Amir Siddique became a University of Ontario Institute of Technology student
The Life Sciences (Biology) student in the Faculty of Science arrived at the university this fall after graduating from Oshawa's Maxwell Heights Secondary School. In his final year at Maxwell Heights he was Prime Minister of the student council and class valedictorian. He also founded a student group to discuss and promote mental wellness.
Siddique's dedication to serving his fellow students and his community, along with his academic achievement helped earn him one of the university's most prestigious entrance awards: the President's Scholarship.
That scholarship has helped fuel his passion for citizen leadership to an even higher degree. At the university he's the president and co-founder of Wellness of Women, a student club on campus whose mission is to offer support and help raise funds for local women's shelters.
Plan Canada International's 'ambassador challenge'
Fast forward to early November. Siddique learned through the charity Plan Canada International (PCI) about a major conference set for November 28 in Toronto. PCI (the organization behind the Because I am a Girl movement) was partnering with the Economic Club of Canada to stage The Economics of Equality: Advancing Women and Girls to Change the World. The headline speaker would be former United States first lady Michelle Obama.
"Plan Canada International's website was running an ambassador challenge," says Siddique. "Two young Canadian contestants would win a VIP pass to conference and get to meet Michelle Obama. The challenge required students outlining in a 60-second video what they wanted world leaders to do to advance global gender equality."
Siddique pondered the opportunity for days, trying to decide what he wanted to say and how to say it. In the end, he employed his skills as a spoken-word artist, submitting his entry in the form of a video poem entitled 'Talk'. Five days before the event he had heard nothing.
Then late on November 23 he received a call. The University of Ontario Institute of Technology student and a young woman studying at McMaster University in Hamilton, Ontario (Kanwarpreet Karwal) had won the contest.
The main event: Meeting Michelle Obama
"Three days later a limousine picked me up to take me to a Toronto hotel. We received some amazing media training in a seminar the next day. At the main event, we sat at the head table in front of a large crowd at the Mattamy Centre at Ryerson University for Michelle Obama's speech. What an honour and a privilege it was to be there."
Following the speech, Siddique and Karwal enjoyed a meet-and-greet opportunity with Michelle Obama, Sophie Trudeau and a group of Canadian business leaders and decision-makers.  
Understanding the past is the key to changing the future
Siddique is a first-generation Canadian who has seen gender inequality with his own eyes, He grew up witnessing his mother being treated in his community as somehow less-than-equal to his father. He's made it a personal mission to learn from his mother's experiences, and mothers everywhere, to do his best to promote equality for women.
"I will always cherish and remember this special opportunity in Toronto and I will take Michelle Obama's message to heart. Obama advocates education as being the critical factor in creating change for girls and women. Around the world and here in Canada, women must be given the proper resources to grow intellectually, be recognized as equals and be at a level where they can also give back to their communities," 
Related link