2017 campus Holiday Food Drive supports 150 families
January 5, 2018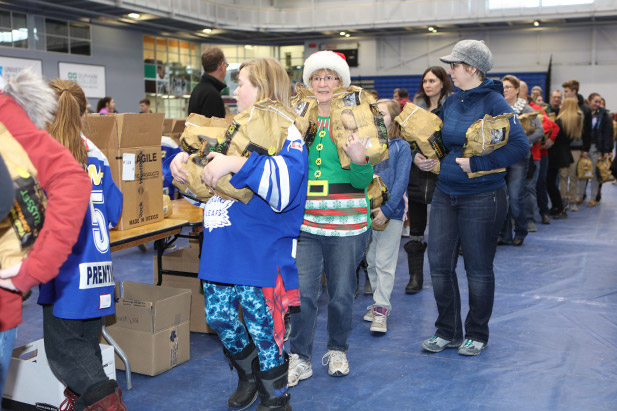 The co-chairs of the annual campus Holiday Food Drive extend their sincere thanks to everyone who helped make the 2017 initiative a resounding success.
A longstanding campus tradition, the drive provides hampers and financial assistance to University of Ontario Institute of Technology and Durham College student families in need.
"The need is real: we hear stories about students having to choose between buying books or food throughout the school year. It can be particularly difficult for them during the holidays when they have to decide between purchasing school necessities or gifts for their families," says Brad MacIsaac, Co-chair, Holiday Food Drive. "We are thrilled that this year's campaign helped families enjoy happier holidays with a record number of 150 food hampers, thanks to the generosity of our campus community."
"The success of the Holiday Food Drive would not be possible without everyone who came together for this great cause," adds Kevin Griffin, Co-chair, Holiday Food Drive. "A heartfelt thank you goes out to all who donated non-perishable food items, contributed finances toward the purchase of fresh food, and helped us pack and deliver hampers on December 17."
The university, the college, the Kinsmen Club of Oshawa, UOIT Student Union and Durham College Students Inc. organize the campus Holiday Food Drive. 
Gallery