Engineering students earn prestigious Hydro One scholarships
Awards illustrate impact of Women in Engineering outreach activities
January 9, 2018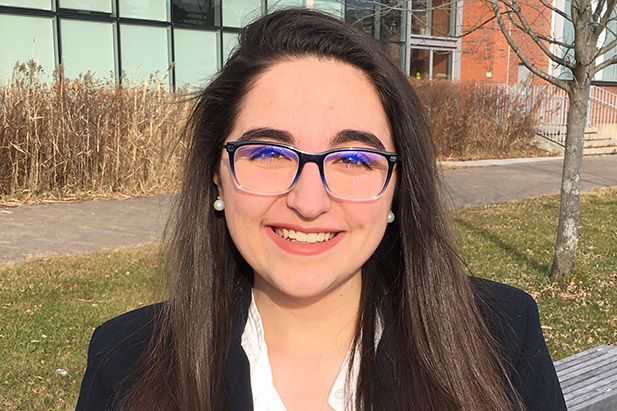 When second-year University of Ontario Institute of Technology student Rachel Lynds was a young girl growing up in St. Catharines, Ontario, she had a strong sense that one day she might want to be an engineer.
"I would help my Dad a lot with home projects and machine maintenance," says Rachel. "For a long time I was too little to really get in on the action, so my family granted me the title of 'official tool handler'. I was an inquisitive kid, always asking why and wanting to know how things work. I was the 'take it apart and put it back together' kid. Many old calculators and radios met their demise at my curious hands."
Rachel had a natural interest in science early on in elementary school.
"Thanks to the influence of adults around me like my parents, my science and math teachers, I pursued science- and math-related courses in high school. I decided to study engineering because I felt it would give me a way to create and innovate in a greater capacity than I ever could before."
In the fall of 2014, Rachel was a Grade 11 student at l'École secondaire catholique Jean-Vanier in Welland, Ontario, and still a full year away from deciding which universities she wanted to apply to. She went with her parents to the 2014 Ontario Universities' Fair (OUF) at the Metro Toronto Convention Centre to learn about the programs available at all Ontario universities.
One of her OUF stops was the University of Ontario Institute of Technology's exhibit, where she met with university recruiters and the Faculty of Engineering and Applied Science's (FEAS) Women in Engineering (WiE) team. That meeting became the first steps of Rachel's post-secondary journey. For the next 18 months, she kept in touch with the WiE team. She met with them again at OUF 2015 and the university's Fall Open House.
"I was drawn to the University of Ontario Institute of Technology because of its unique programs and small size. The more I researched it, the more I could see myself studying here. When I met the Women in Engineering team, I knew I needed to visit campus. That trip pretty much made up my mind. I felt comfortable and at home, which to me was very important."
The Mechanical Engineering student's hard work and academic success at the university has  earned her some very special external recognition from Hydro One's WiE Scholarship program. Presented annually, the Hydro One Leonard S. (Tony) Mandamin Scholarship recognizes up to 15 First Nations, Métis and Inuit post-secondary students enrolled in electricity-related programs in Ontario. In addition to a $5,000 scholarship, Rachel is eligible for an opportunity to complete a paid developmental work term with Hydro One.
"Winning this award fulfils one of my longtime goals and it gives me the opportunity to graduate to an intern. As an Indigenous person, I really appreciate that Hydro One offers this type of opportunity. This award will help me move forward in my education and gain relevant industry experience, which in my field is invaluable."
Outside of her studies, Rachel shares her success story with prospective University of Ontario Institute of Technology Engineering students. In December, Rachel participated in the university's first WiE Discover Engineering recruitment weekend. Last summer, she worked for national youth charity Actua, delivering science, technology, engineering and mathematics (STEM) outreach programs in Nunavut. Currently, she works as the faculty's WiE Peer Mentorship Student Co-ordinator and volunteers with the faculty's engineering outreach programs.
More Hydro One scholarship recipients
Third-year University of Ontario Institute of Technology Electrical Engineering students Hailey Fielder and Toby Ma also received a Hydro One WiE Scholarship this year (among 10 presented across the province in that category for 2018). In addition to a financial award, each will have the option of pursuing a 15-month internship with Hydro One. 
Hydro One will formally recognize Lynds, Fielder and Ma at a ceremony in Toronto, Ontario in the spring.
Fast fact: The university's two Hydro One WiE Scholarship recipients from 2017 (Electrical Engineering students Mirna Jegatheeswaran and Chelsea Joson) are currently away on internship.  
About the Hydro One Women in Engineering Scholarship
Established in 2014, the Hydro One WiE Scholarship drives Hydro One's commitment to provide women with opportunities to develop satisfying and successful professional careers in the areas of engineering and other related fields. It follows the company's work with the College Consortium, the University Partnership and its sponsorship of Go ENG Girl, a program that gives young girls and their parents the opportunity to visit and learn from female professionals, academics and university students about engineering.
---
Media contact
Bryan Oliver
Communications and Marketing
Ontario Tech University
905.721.8668 ext. 6709
bryan.oliver@uoit.ca