Investigating a new ecological threat in Lake Scugog
University research team receives Ontario Trillium Foundation support to explore answers
January 26, 2018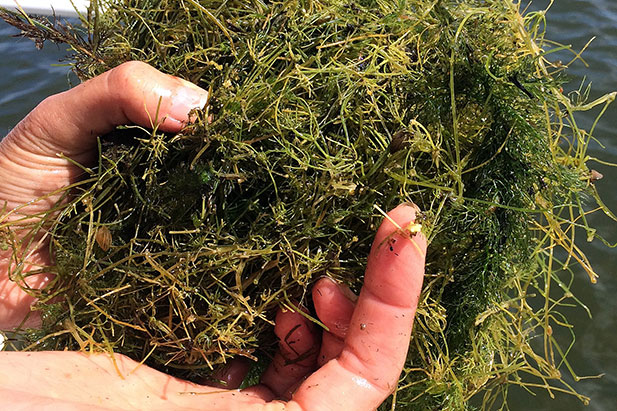 One of Ontario's most popular fishing locations faces a serious biological threat. An aggressive and invasive alga discovered in Lake Scugog has the potential to alter the shallow lake's overall ecological health. The culprit, Starry Stonewort ('starry' for the star-shaped bulbils, or secondary bulbs, it forms to help it reproduce). It also threatens the habitat of various fish species such as walleye, bass, perch and musky (muskellunge).
Since 2016, a research team at the University of Ontario Institute of Technology has worked closely with the Scugog Lake Stewards (SLS), a community group dedicated to enhancing the health of the Port Perry-area lake. Last April, the group received a $369,000 three-year grant from the Ontario Trillium Foundation (OTF) to continue vital research to develop a comprehensive and sustainable approach to help with fish habitat conservation in Lake Scugog. 
Andrea Kirkwood, PhD, of the Faculty of Science's biology research group, leads the university's research team. Graduate student Tyler Harrow-Lyle (King City, Ontario; Environmental Toxicology, class of 2017) will study the ecology of Starry Stonewort throughout Lake Scugog over the next three years. The university is also working in partnership with Kawartha Conservation on a nearshore study with lakefront homeowners as part of their OTF funding.
About Starry Stonewort
Starry Stonewort is an alga that chokes out native plants and inhibits fish spawning areas. It floats freely in the lake and has no known predator. The dense alga mats together with other species to tangle around boat propellers. Local anglers reported smaller than normal fish in Lake Scugog throughout the 2016 season.
Previous research at the University of Ontario Institute of Technology has sought to identify possible patterns between Starry Stonewort and other prevalent plant species. In summer 2016, researchers, including university undergraduate student Ashley Harricharan (Pickering, Ontario; Biology and Management, class of 2017) established 12 sampling sites on Lake Scugog near fish habitats and urban or agricultural locations. They discovered Starry Stonewort is prevalent throughout the lake and may promote the growth of another invasive species, the zebra mussel.
About the Ontario Trillium Foundation
The Ontario Trillium Foundation, an agency of the Government of Ontario, is one of Canada's largest granting foundations.
Since 2013, the Ontario Trillium Foundation has invested more than $432 million in projects to help build healthy and vibrant communities.
Sixteen Grant Review Teams across Ontario, composed of active community-based volunteers, review applications and guide granting decisions for the OTF.
With an investment of $35.5 million, these 114 projects will have a positive impact on the lives of more than 356,000 people across the province over the next three years.
OTF publishes its granting data in a raw, machine-readable format to help drive innovation and collaboration. This aligns with Ontario's 

Open Government

commitment to increase transparency by making government data more publicly available.     
Media contact
Bryan Oliver
Communications and Marketing
University of Ontario Institute of Technology
905.721.8668 ext. 6709
bryan.oliver@uoit.ca
Gallery