The City of Oshawa as a living laboratory for urban issues
Academic partnership positions city on the forefront of urban innovation and leadership
January 9, 2018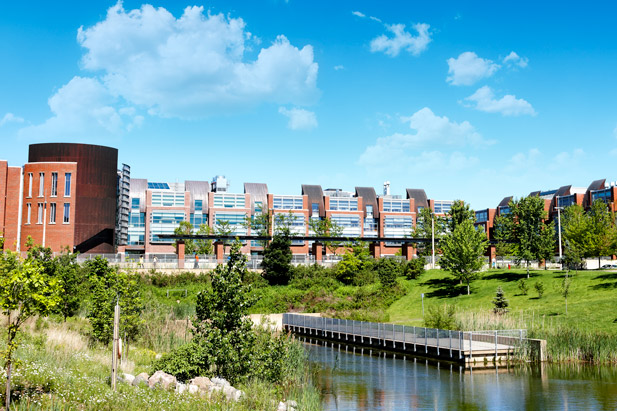 The University of Ontario Institute of Technology has teamed up with other local post-secondary partners on an innovative approach to finding solutions on today's urban challenges.
In 2017, the City of Oshawa became a 'Teaching City' (TC), a living laboratory where students and academics work with city staff on a wide range of challenges such as the impact of climate change on watershed management, waste management, transportation, digital connectivity and more. Findings will uncover new ideas and new ways to advance the community to the benefit of residents.
In its earliest months, TC has created various research opportunities for its partners as well as experiential learning opportunities for students. Through ongoing city budget support, Oshawa has now assigned a permanent staff and launched several initial projects, such as:
Diversity and Inclusion Plan (strengthened social cohesion and social capital will enhance the city's capacity to recruit skilled domestic and international talent to the community).
Stormwater ponds research study.
Oshawa's TC project is included in the Council of Ontario Universities new report Partnering for a Better Future for Ontario. Looking ahead to later in 2018, proposed TC developments include a Saturday, March 3 hackathon (a one-day event where software programmers and other computer subject- matter experts gather to collaborate, brainstorm and create projects) for students at the University of Ontario Institute of Technology, Durham College and Trent University Durham-GTA.
Quote
"Taking into account such issues as environmental stewardship, aging infrastructure and technological advances, the opportunities before cities are much different today than they were throughout the 20th century. Teaching City is an ideal way to demonstrate how modern urban communities can adapt to meet the challenges of today and tomorrow."
-Douglas Holdway, PhD, Vice-President, Research, Innovation and International (Interim), University of Ontario Institute of Technology