Explaining complex research in just three minutes
Graduate students to compete in Three Minute Thesis finals March 21
March 9, 2018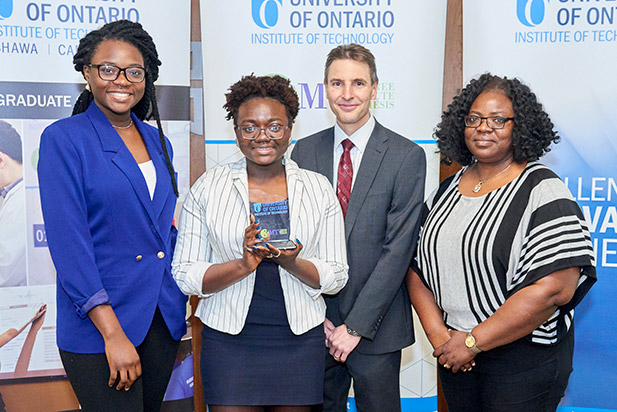 It takes months, or even years, to finalize the content of a university graduate degree thesis. It requires thorough and persistent research, investigation and inquiry. Sometimes a final thesis of original knowledge can be as long as a typical book.
Given the amount of preparation time required, it seems impossible for a graduate student to summarize the key points of their thesis and explain it to a general audience—in just 180 seconds.
Three Minute Thesis (3MT) is a university-wide competition for University of Ontario Institute of Technology graduate students. On Wednesday, March 21, 3MT participants will present their complex research and its wider impact to a panel of non-specialist judges. Competitors have only three minutes to express their knowledge in an engaging, accessible and compelling way, using only one static slide for visual support.
When: Wednesday, March 21 from 2 to 4 p.m.
Where: University of Ontario Institute of Technology
2000 Simcoe Street North
Business and Information Technology Building, Mezzanine (second floor)
The university's first-place winner will advance to the 2018 Ontario 3MT finals at York University in Toronto.
2017 university winner Ololade Sanusi (Computer and Electrical Engineering PhD candidate) went on to a top-five finish provincially and advanced to the national championship.
Watch the online stream for all events or follow on social media (#UOIT3MT) for live updates.
Media contact
Bryan Oliver
Communications and Marketing
University of Ontario Institute of Technology
905.721.8668 ext. 6709
bryan.oliver@uoit.ca