Governor General recognizes university alumnus for work with vulnerable members of society
March 19, 2018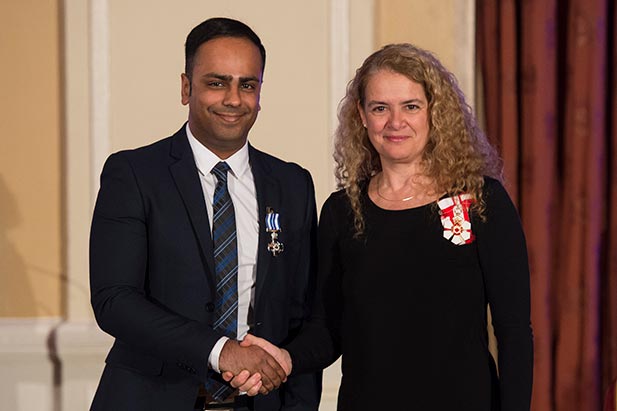 As a palliative care physician, Dr. Naheed Dosani understands the barriers homelessness, addiction, poverty and insecure housing create for people with life-limiting illnesses.
The University of Ontario Institute of Technology graduate (Biological and Biomedical Sciences, class of 2008), now works with the Toronto-based William Osler Health System. He is also part of Inner-City Health Associates (ICHA), a group of more than 60 physicians who work in shelters and drop-in sites in the Greater Toronto Area to provide care to homeless and marginally housed individuals. 
Dr. Dosani recently received the Governor General of Canada's Meritorious Service Cross (Civil Division) for his commitment to helping some of the most marginalized members of society.
The Governor General presents awards in communities across the country to help share inspiring stories, celebrate tremendous contributions to our society and connect with Canadians. Dr. Dosani was among close to 60 remarkable Canadians recognized for their excellence, courage or exceptional dedication to service by Her Excellency the Right Honourable Julie Payette.