Health Sciences students' video project shines at national competition
March 7, 2018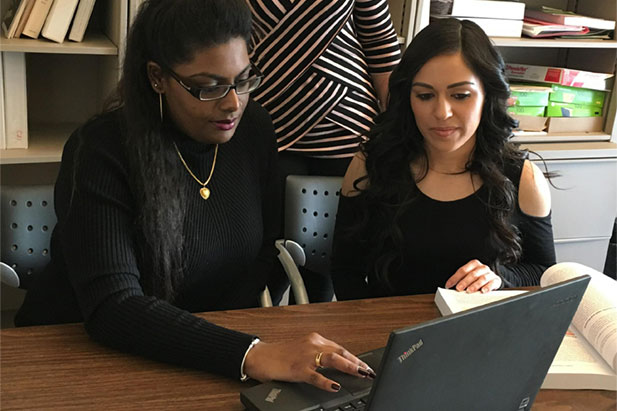 What began as a course assignment for two University of Ontario Institute of Technology students ended with recognition in the national spotlight.
Fourth-year Health Sciences (Public Health specialization) students Nivaashinyi Srisakthivel and Catarina Bray (class of 2018) teamed up to produce a video for their Environmental and Occupational Health course. Their task was to select a primary or secondary environmental exposure (such as toxic metal hazards) associated with health effects in a workplace setting.
Impressed with the final production of their video, Lead Exposure in the Environment and Human Health Effects, their professor, Caroline Barakat-Haddad, PhD, encouraged them to enter their work in a national student-made video contest. The EduTOX Video Challenge promotes public awareness on harmful toxins, climate change and associated health risks.
"Lead is one of the most common naturally occurring environmental toxins, exposed through drinking water, air, food, soil, dust and consumer products like cosmetics," explain Srisakthivel and Bray. "Lead's harmful human health effects are associated with cardiovascular issues, fertility and neurodevelopment problems, among many others."
Lead Exposure in the Environment and Human Health Effects captured the runner-up prize for excellence in scientific accuracy, educational value as well as relevance to EduTOX's objectives.
"This course and experiential learning activity equips students with the skills to critically examine how various environmental risk factors affect health outcomes," says Dr. Barakat-Haddad. "I am proud of the submissions of all my students and the success Nivaashinyi and Catarina achieved in light of a record number of national EduTOX submissions this year."