Master of Science candidate advances to provincial Three Minute Thesis competition
Eryn Frawley applying math to understand the dynamics of animal aggregation
March 29, 2018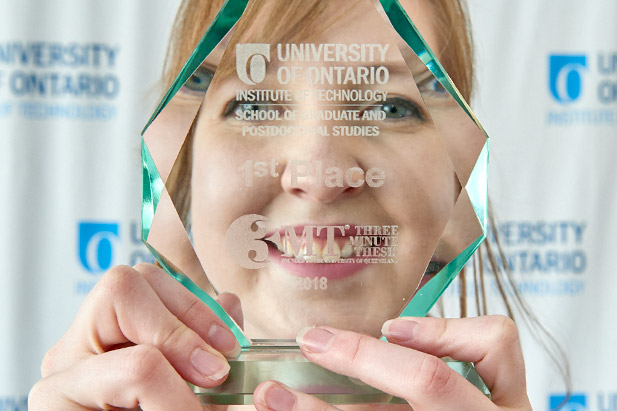 The University of Ontario Institute of Technology (UOIT) held its sixth-annual Three Minute Thesis (3MT®) competition March 21, with six graduate students sharing their research findings in the finals.
The 3MT® challenge is considerable: participants have just three minutes to explain the basics of their complex research thesis in front of a broad audience and panel of judges. You get one shot. You can show only one static image on a screen and you cannot use props. If you go over the time limit, you are disqualified.
For most participants, the presentation represents weeks of preparation. For Eryn Frawley, a Modelling and Computational Science master's degree student, the 3MT® experience actually goes back more than a year.
"I first competed in Three Minute Thesis in 2017 and it was the first time I had to balance science with creativity," says Frawley. "As last year's competition progressed, I began doubting myself. During the finals, my self-doubt clouded all recollection of my speech. I returned to the 3MT stage this year because I didn't want last year's experience to be my defining memory of the marriage between my two passions."
Frawley delivered her 2018 presentation with confidence. This time around, she claimed top prize. She credits her second-time success to her research group.
"I couldn't have asked for a better support system with my supervisors, Lennart van Veen, PhD, and Pietro-Luciano Buono, PhD; the rest of the Faculty of Science; my parents and brother; and the 3MT co-ordinators," says Frawley. "What truly made the difference this year was the support of my brother and fellow University of Ontario institute of Technology student Matthew Frawley. On each competition day, he ran from his classes so he could be in the audience to cheer me on."
Frawley's research focuses on safety in numbers among species in the natural world. Being part of a group naturally protects animals in the wild: a herd member wandering too far away from the rest of the pack often finds itself under attack by prey.
In parallel with her thesis topic, Frawley will be part of an even larger group in April when she represents the university at the sixth-annual provincial 3MT® competition at York University in Toronto.
2018 University of Ontario Institute of Technology 3MT® finalists
* First place
** Second place
*** People's Choice winner (as selected by the audience)
Organized by the University of Ontario Institute of Technology's School of Graduate and Postdoctoral Studies, 3MT® is generously sponsored by Purdue Pharma (Canada).
2018 Three Minute Thesis community judges (heats)
Gordon Dowsley, Rotary Club of Oshawa
Natascha Kozlowski, Director of Research, Lakeridge Health
Ivano Labricciosa, President and CEO, Oshawa Power and Utilities Corporation
Shaun Michael Samaroo, CEO, Qualped Corporation
Michelle Shurland-Jadoo, Operations Analyst, Spark Centre
2018 Three Minute Thesis community judges (finals)
Arlene Ali, Executive Director, Medical Science, Purdue Pharma (Canada)
Colleen McMorrow, Corporate Director (serving with Exco Technologies Limited, Logiq Asset Management, Ethereum Capital Corporation, and the Investment Management Corporation of Ontario)
Mary Mogford, Honorary Member, SickKids Foundation Board of Directors
Patrick Reber, Chief Executive Officer, Fernie Youth Services
Brian Yee, Data Scientist, Scotiabank
The 3MT® competition was developed initially by the University of Queensland (Australia) in 2008. The competition has since spread internationally to include Canada.  
Quotes
"This year's group of Three Minute Thesis participants spectacularly demonstrated their research passion and their communication abilities. Contestants showcased very unique and innovative research topics, building excitement about the future directions of their respective fields. We are proud of each student's skill and commitment to the 3MT event, as well as their impressive thesis work."
-Langis Roy, PhD, Dean, School of Graduate and Postdoctoral Studies
"Purdue Pharma was proud to again participate in, and sponsor, the Three Minute Thesis competition at the University of Ontario Institute of Technology. The university is a valued community partner in advancing research and technology in an innovative learning environment that inspires graduates to become the researchers and innovators of tomorrow."
-Arlene Ali, PhD, Executive Director, Medical Sciences, Purdue Pharma (Canada)
Gallery