Mechatronics Engineering student impresses during marathon of hackathons
Hamayal Choudhry's educational journey making most of powerful experiential learning opportunities
March 7, 2018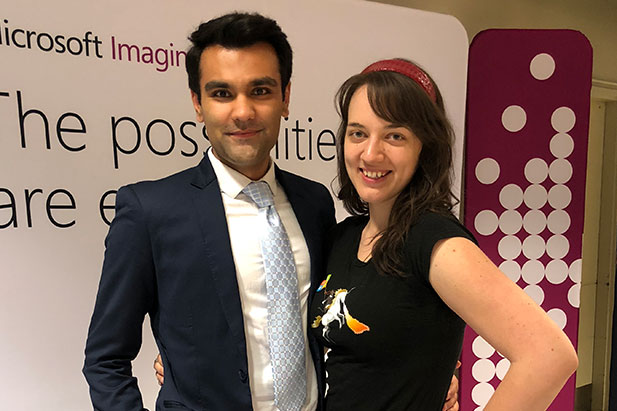 Although he is yet to reach the halfway point of his Mechatronics Engineering degree (part of the program's inaugural cohort), second-year University of Ontario Institute of Technology student Hamayal Choudhry (class of 2020) has already made quite a name for himself beyond the university campus.
Choudhry has become a familiar fixture in high-pressure computer programming showdowns known as hackathons. Typically a 36-hour event, a hackathon brings programmers, coders, designers and marketers together under one roof to engage in time-limited collaborative software development.
Competitors access leading-edge hardware and application programming interfaces (APIs) to create innovative solutions to problems.
In January, Choudhry competed at the University of Toronto's fifth-annual UofTHacks event and captured first place in Microsoft's Sponsor Award (with a partner student from the University of Toronto). The team used Microsoft Azure's Computer Vision API to create Smart Arm, a revolutionary prosthetic with artificial intelligence, from scratch.
"I think the whole idea behind artificial intelligence is not to replace humans, but enhance their life," says Choudhry. "With Smart Arm, we used the advancement of machine learning and computer vision specifically to directly improve someone's quality of life first-hand. Because the Smart Arm is a dynamic system, the more you use it, the smarter it becomes."
Choudhry's team's success led to discussions with Microsoft representatives and an upcoming tour of the company's office and facilities in Chicago, Illinois.
The Toronto hackathon also presented Choudhry with other tremendous networking opportunities.
"I was able to meet and consult with some very popular software evangelists (people who build a critical mass of support for a given technology) from Microsoft," says Choudhry. "I also spoke to key people from Interac, RBC, IBM and TD."
With the hope to launch Smart Arm into a scalable product, Choudhry will submit the project to Microsoft's 2018 Imagine Cup, a global competition promoting resolution of some of the world's toughest challenges. The Canadian event takes place in Vancouver, B.C. in May. The global winner in July receives $100,000 and one-on-one mentorship from Microsoft CEO, Satya Nadella.
Earlier in the year, Choudhry represented the university's Faculty of Engineering and Applied Science in hackathons at the University of Oxford in the United Kingdom as well as Boston University in Massachusetts. Most recently, he took part in a hackathon at McGill University in Montreal, Quebec, where he and a fellow hacker developed 'Fred'—an interactive robot mirror that uses computer vision and deep learning to detect a pedestrian's emotions in specified geolocations for research purposes.
Next on the horizon, Choudhry will spend part of the summer taking advantage of a Robotics and Controls Internship offer with Tesla, Inc. in Fremont, California.